Finding the right colored contacts can be challenging for dark brown eyes. You'll see plenty of colored contact lens options on the market, but only a few brands offer the most natural looking result for brown eyes – particularly on very dark brown eyes!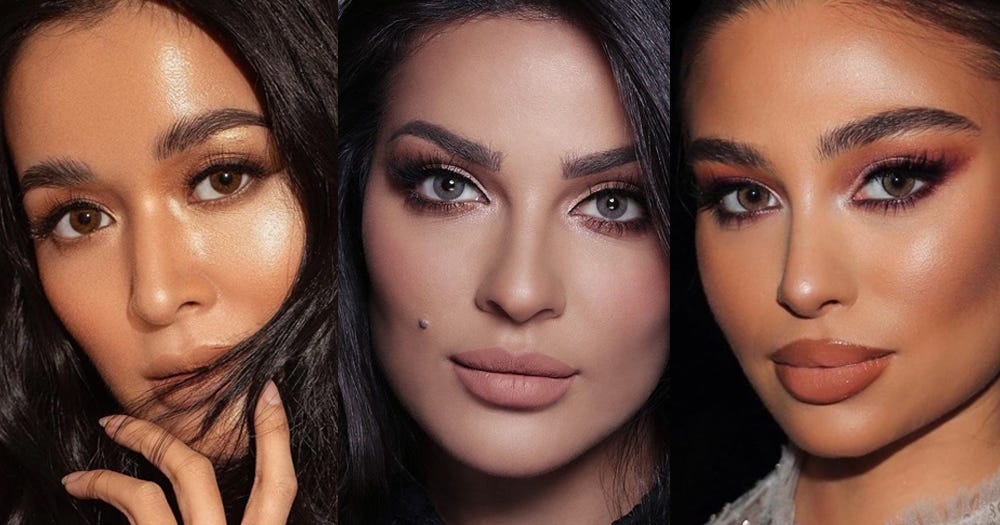 In this article, we've listed the top 20 must-try colored contact lenses for brown eyes giving the most natural looking result. Bonus: These colored contacts are available as prescription colored contacts for dark eyes and some of which can be ordered with customized values in toric for astigmatism.
Let's go through the list of our highly recommended 20 colored contact lenses to try that will completely change your perception of color contact lenses!
20 Best Colored Contact Lenses For Dark Eyes
1. Solotica Hidrocor Jade
In search of the most natural green colored contacts that can fully cover your dark brown eyes? Jade from Solotica Hidrocor range is the answer! These extremely natural green colored contacts can transform any eye color including the darkest brown eyes in an instant with a natural finish! Solotica Hidrocor Jade comes in a color combined with rich green tones with warm hazels to seamlessly mimic natural green eyes. Without a limbal ring, the result boosts naturalness and hardly anyone can tell your green eyes are colored contacts. You can order these green contact lenses with prescription and even available for custom-make for astigmatism prescription.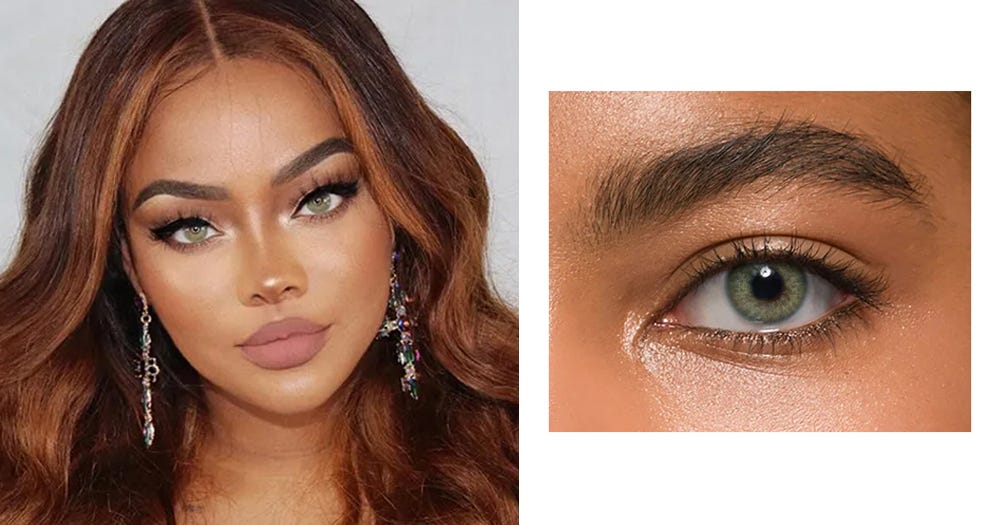 View Product
2. Anesthesia Addict Blue
A top-selling shade from the Anesthesia brand, Anesthesia Addict Blue will never disappoint if you have been looking for natural blue colored contacts. Soft shades of blue with hints of brown make these blue colored contacts unbelievably natural making them one of the most popular blue contact lenses in the world. Rated excellent by customers who have tried on their dark brown eyes, there is no doubt as to why these blue colored contact lenses made it to this cut! Anesthesia Addict range is a half-yearly disposable color contact lens range along with Dream and Anesthetic and U.S.A line-ups.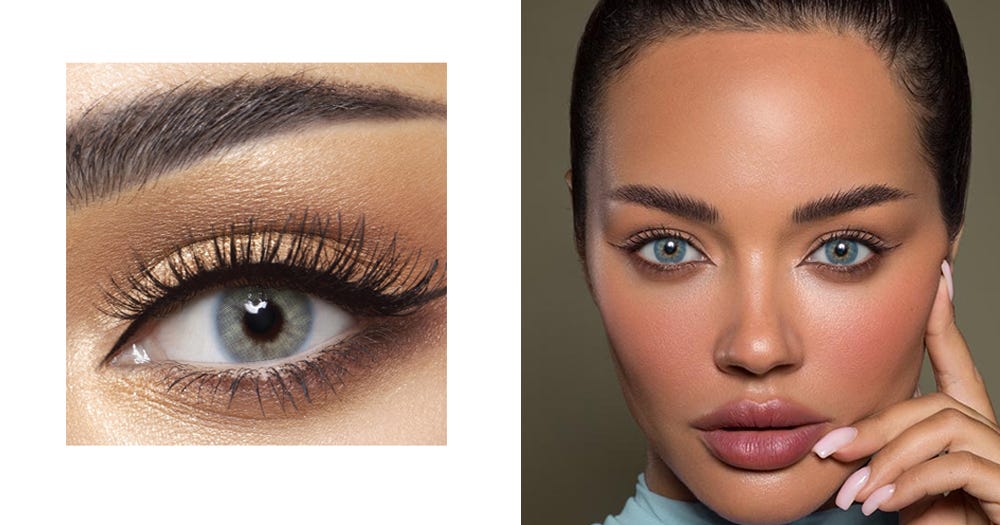 View Product
3. Bella Elite Sandy Brown
If you are looking for a subtle change to optimize your natural brown eyes, you must try Elite Sandy Brown from the Bella color contact lens brand. There's a reason why 'Sandy' is part of its color name as these soft brown colored contacts may also look brown gray depending on the lighting environment adding depth and mystery to your look. We highly recommend getting these colored contacts if you want a pair that would complement well your styling for both casual or special occasions.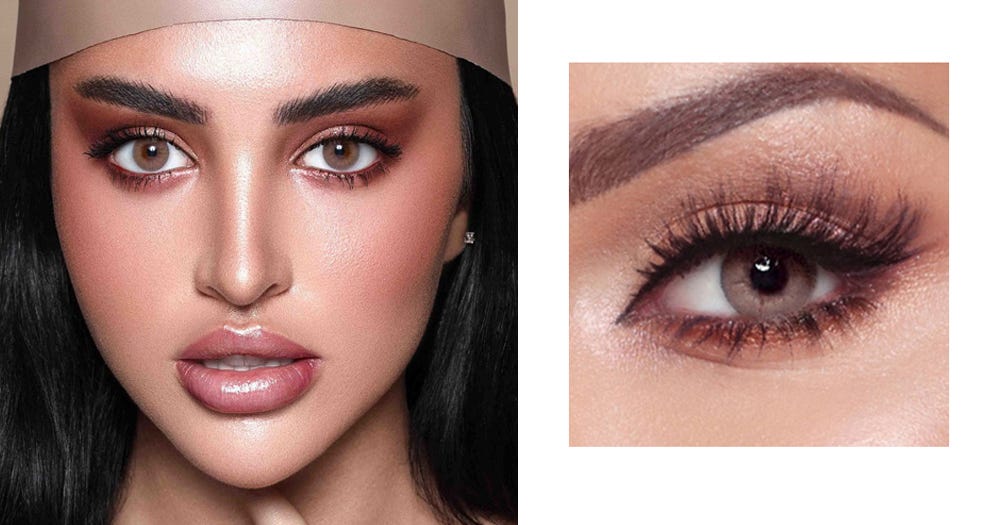 View Product
4. Solotica Natural Colors Agata
Meet the most natural brown colored contact lens from Solotica, Natural Colors Agata! Launched recently joining the success of the Solotica Natural Colors, a yearly contact lens range, this ultra-natural-looking brown colored contact lens was developed to enhance dark brown eyes – meaning, they blend seamlessly on dark brown eyes making it unnoticeable to be seen as colored contacts. If you're doubtful about our words, you must try this color contact lens now and see it yourself.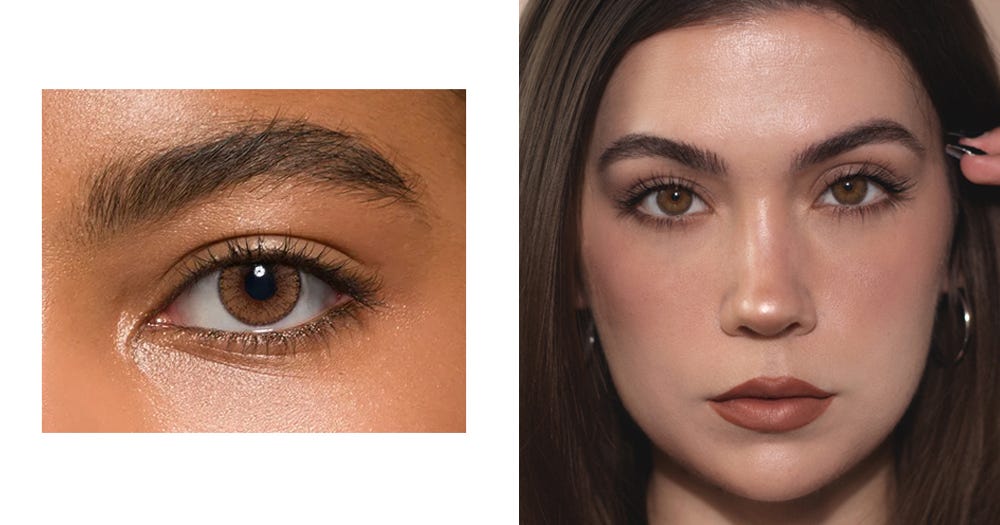 View Product
5. Freshlook Colorblends Brown
Brought to you by Alcon manufacturer, Freshlook color contact lens brand has been on the market for over 75 years. Over the years, Freshlook has established its reputation for being one of the most trusted colored contact lens brands by producing colored contacts using high-quality materials applied with advanced technology. Brown in particular from the Freshlook Colorblends range is among the popular when you hear 'Freshlook'. These brown colored contacts are manufactured with dotted patterns to mimic the human iris. Few celebrities were seen wearing these natural brown contacts. Priyanka Chopra once was captured with beautiful brown eyes wearing these on the Hollywood red carpet.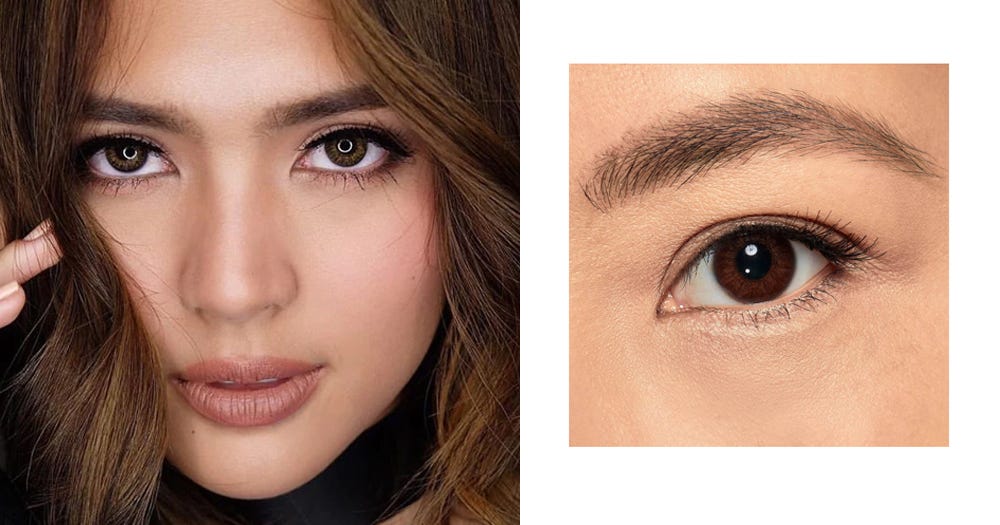 View Product
6. Air Optix Colors Gray
If you know Freshlook color contact lens brand, then Air Optix Colors is no stranger to you! Manufactured by Alcon, a pioneer in producing one of the most comfortable clear contact lenses on the market Air Optix Brand, you can enjoy your new eye color with long-lasting comfort with Air Optix Colors. The color Gray from this range is crafted to perfection with a feathered pattern mimicking natural eye color making Gray one of the most popular shades to try in this range. Selena Gomes, founder of cosmetic brand Rare Beauty was seen wearing this color at one of the Hollywood red carpet events.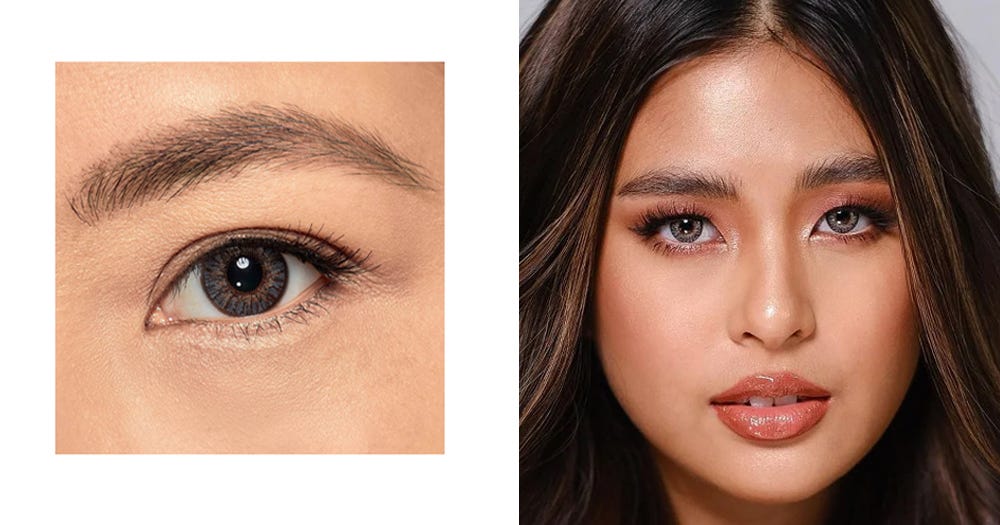 View Product
7. Solotica Aquarella Sienna Brown
For occasional colored contact lens wearers, daily disposable colored contact lenses are the best option to consider! Not just designed with a simple replacement cycle by discarding the lenses after use at the end of the day. You can find plenty of daily colored contact lens options on the market but we highly recommend checking out the Aquarella Daily collection from the Solotica brand. This Solotica collection offers 5 stunning shades that are designed to transform dark brown eyes into your choice of different shades – brown eyes, hazel eyes, blue eyes, gray eyes and green eyes in an instant! Solotica Sienna Brown in particular is the top bestselling color as it softens dark brown eyes whilst adding sparkle to natural light brown eyes.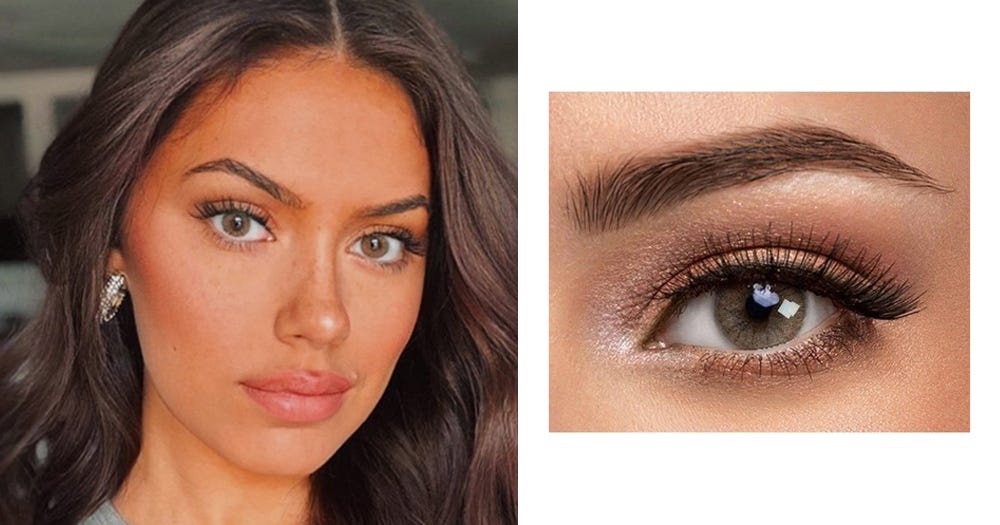 View Product
8. Anesthesia Addict Lolite
Another color contact lens shade to check out from Anesthesia's Addict collection is the color Lolite! If you think having a marble hazel with hints of green is impossible as a color contact lens color, with Addict Lolite, you can now have these beautiful eyes in an instant! Anesthesia Addict Lolite colored contacts are suitable for any skin complexion and any eye color – including dark or light brown eyes!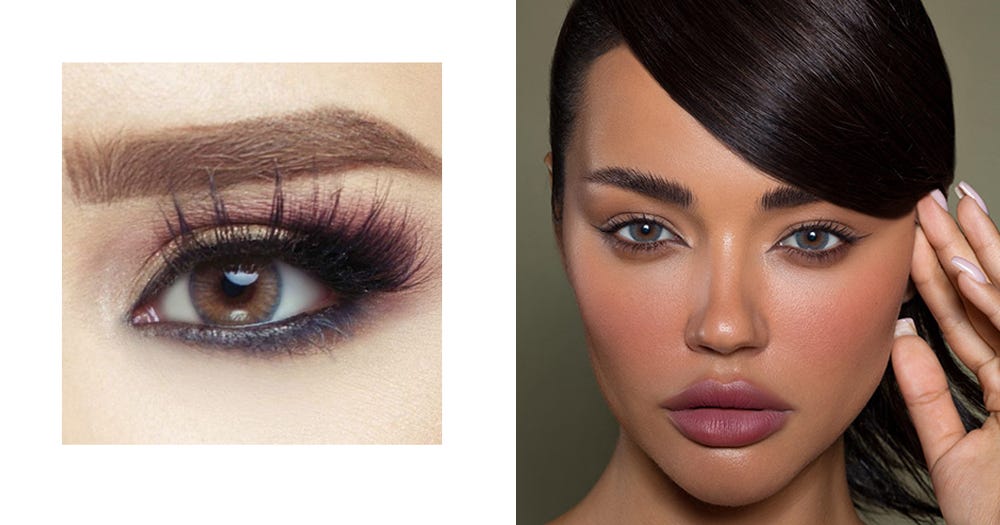 View Product
9. Diva Amande
As beautiful as the sound of its name, Amande from Diva colored contact lens brand will impress everyone around! Combined with different shades of brown to accentuate natural brown eyes, these beautiful dark brown eyes are the perfect pair to be worn daily with or without makeup! If you're new to colored contact lenses and want something soft and not striking, Diva Amande is definitely a must-try!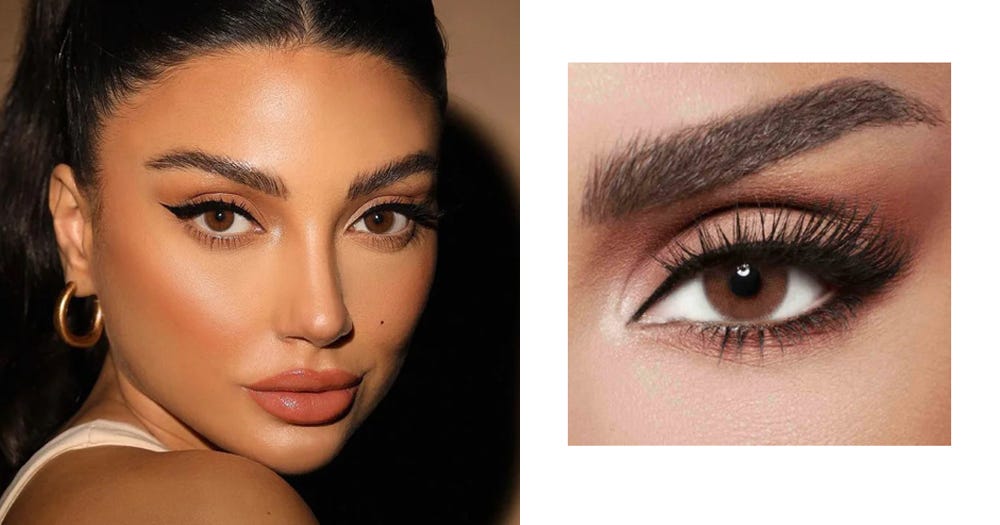 View Product
10. Amara Burned Cinnamon
Brown color contact lenses are undoubted one of the most searched colored contact lens shades! Brown is seen as a safe color contact lens tone to elevate dark brown eyes regardless of being light or dark. Amara Burned Cinnamon is a perfect example of a neutral brown colored contact lens to brighten your look easily. Brown eyes never looked so good with Amara Burned Cinnamon.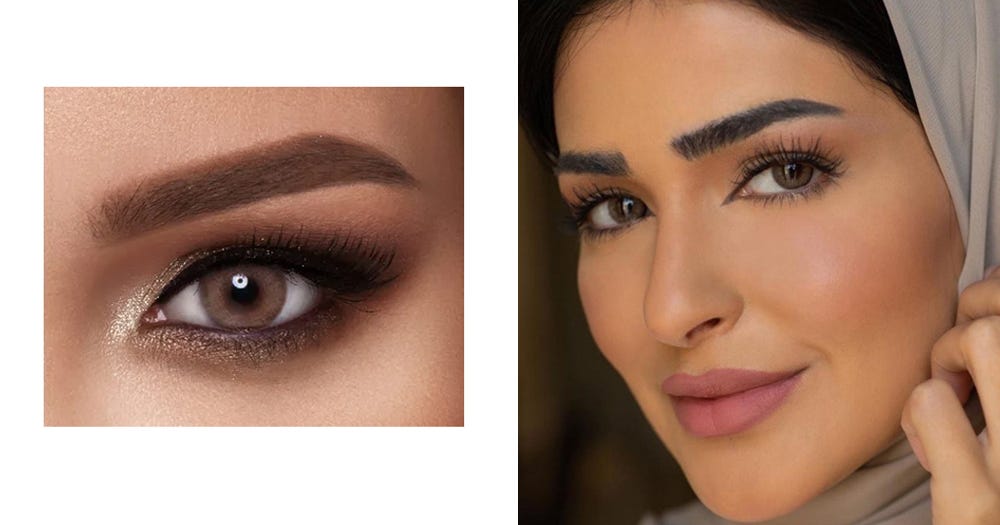 View Product
11. Solotica Hidrocor Agata
Dazzle and sparkle your brown eyes with Hidrocor Agata! A newly added shade from Solotica, the world's most natural colored contact lens brand. Agata is inspired by the earthy brown tones you'll see on the agate gemstone. This color has been thought thoughtfully to perfect a brown colored contact lens! If you have not tried these natural brown colored contacts, you're missing one of the best from Solotica's range!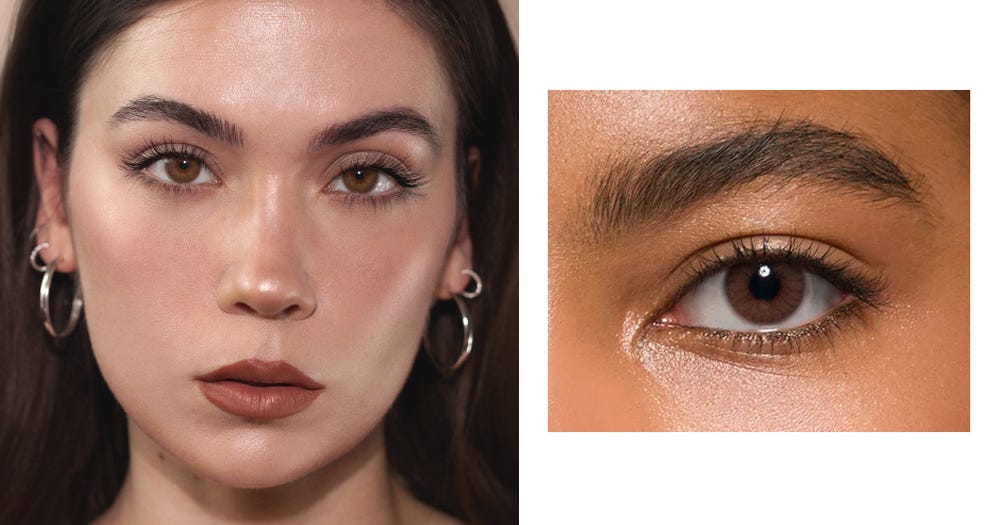 View Product
12. Anesthesia Anesthetic Fonesta
A beautiful green monthly colored contact lenses you shouldn't miss, Anesthetic Fonesta features a beautiful green shade with flecks of yellow towards the pupil hole! Covering dark brown eyes effortlessly transforming them to irresistible green, there is no doubt as to why this natural green lens is the top-selling green shade in the Anesthetic range. Achieving green eyes has never been easier with this beautiful green contact lens.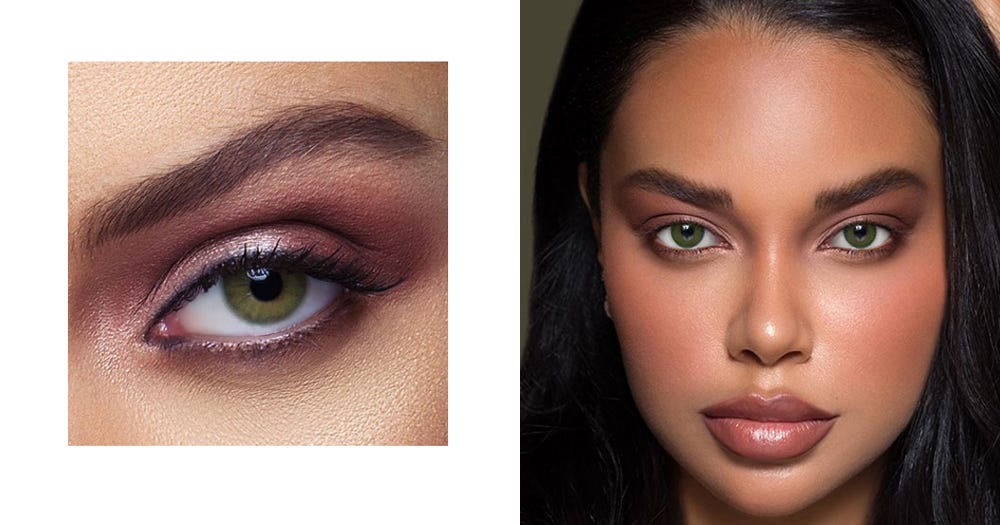 View Product
13. Air Optix Colors Brown
If you adore the Green from the Air Optix Colors, Brown from this range is another delicate colored contact lens that you must have! Printed using the most advanced technique called "Sandwich technology", these colored contacts are thoughtfully designed to blend unnoticeably on brown eyes. Enjoy these brown lenses with or with prescription with the full comfort of Air Optix clear contact lenses.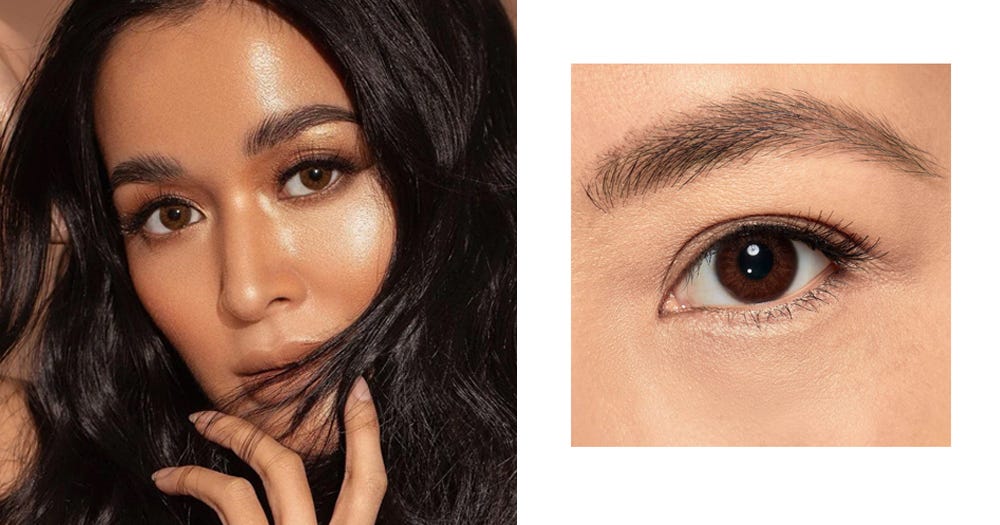 View Product
14. Acuvue Define Natural Shine
The limbal ring around your iris pronounces your youthfulness. This is what exactly Acuvue Define Natural Shine Style wants you to have - a youthful look! This chestnut monotone brown colored contact lens will enhance your iris' limbal ring making you look younger and healthier. Acuvue Define is a daily disposable colored contact lens that is ideal for occasional color contact lens wearers. A pride of Johnson and Johnson's Acuvue colored contact lens line-up, guaranteed you'll experience extreme comfort and beauty in one lens.
View Product
15. Solotica Natural Colors Avela
Chestnut brown is perhaps one of the descriptions of how you would describe brown beautifully! Translated chestnut in English from the Portuguese word Avela, Solotica Natural Colors Avela is best for dark brown eyes if you want a look that is refreshing yet sultry. Best to complement with or without eyeliner, mascara or brows, these colored contacts will revolutionize your 'bare or 'nude' look styling.
View Product
16. Freshlook Colorblends Pure Hazel
If hazel eyes are your cup of tea, we recommend trying Pure Hazel from Freshlook Colorblends. These hazel colored contacts are rich with greens, browns and hazels which easily blend on dark or light brown eyes magnifying autumn brown eyes. Freshlook lenses are opaque which is ideal for people who looking for colored contacts that are both noticeable and intriguing.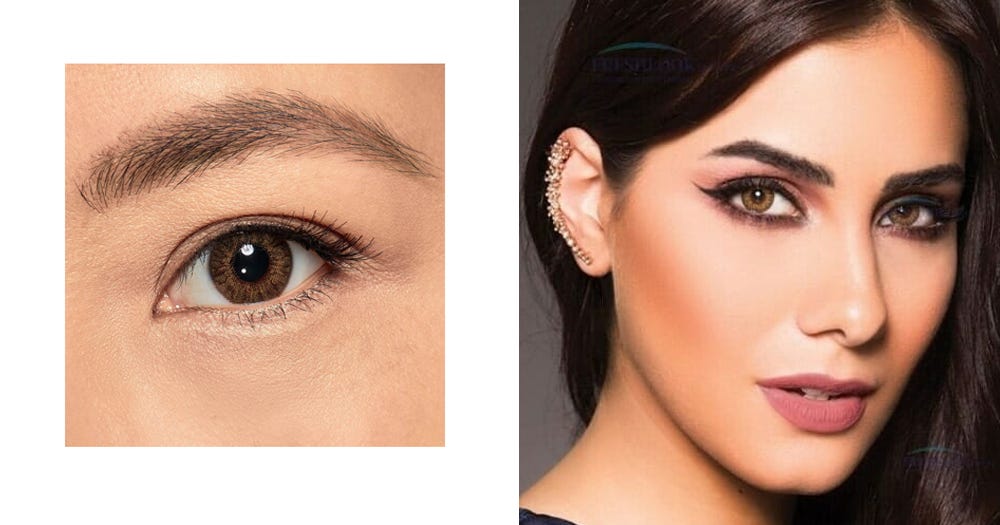 View Product
17. Solotica Aquarella Castanha Brown
Rich, chocolatey and pure brown eyes can be yours in an instant with Aquarella's Castanha Brown from the Solotica color contact lens brand in their quarterly disposable color contact lens range. We can't emphasize how beautiful these brown lenses are especially on dark brown eyes! With a dense print around the contact lens that creates an illusion of having a limbal ring, Castanha Brown is definitely a must-try whether you're new to colored contacts or a pro-wearer.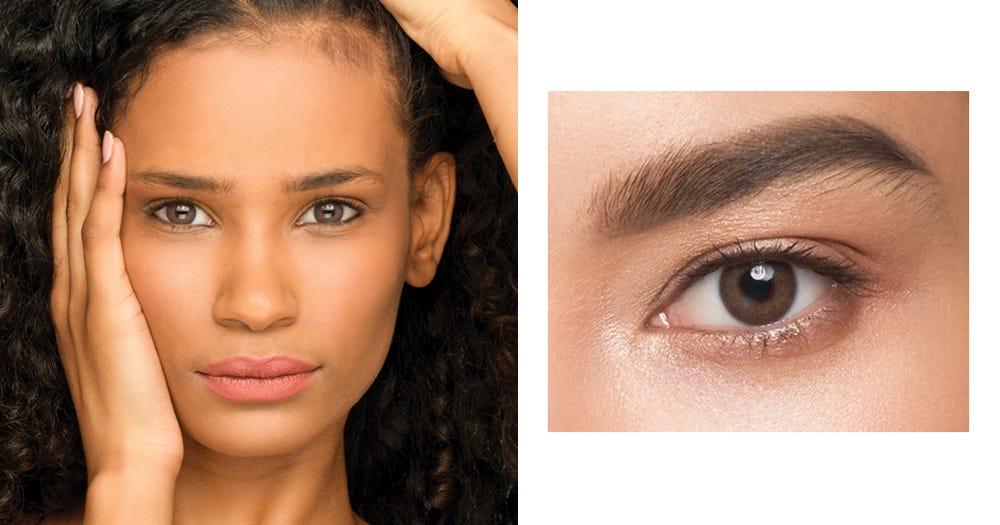 View Product
18. Solotica Hidrocor Mel
If you're on a hunt for toned-down green colored contacts yet still are extremely natural, Solotica Hidrocor Mel is the one for you! Hidrocor Mel is a pistachio green lens that looks light warm green on dark brown eyes whilst may look hazelly green on medium to light brown eyes. Kylie Jenner, a famous American beauty superstar influencer and brand owner of Kylie Cosmetics has been seen plenty of times wearing these warm green colored contacts posted on her Instagram page. Since then, Hidrocor Mel became one of the world's most popular colored contacts! Don't just take our words, check out videos on YouTube reviewing these colored contact lenses to find out more about its hype.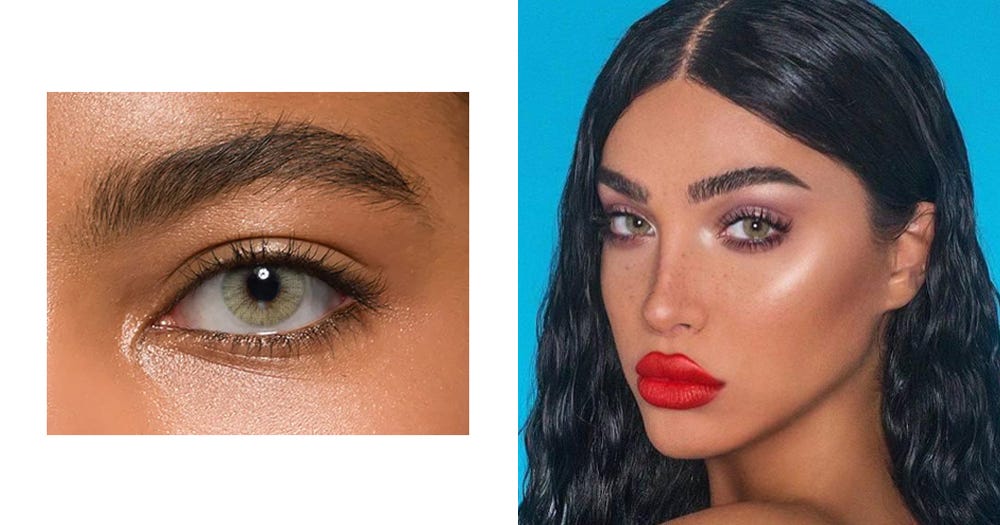 View Product
19. Amara Brunette
Another popular shade from the Amara color contact lens brand is the color Brunette. These beautiful dark brown colored contacts will pop your eyes creating an illusion of enlarged iris or the so-called "doll eyes" effect. Paired with a touch of nude color eyeshadow and bushy eyebrows, Amara Brunette will make your ordinary brown eyes extraordinary.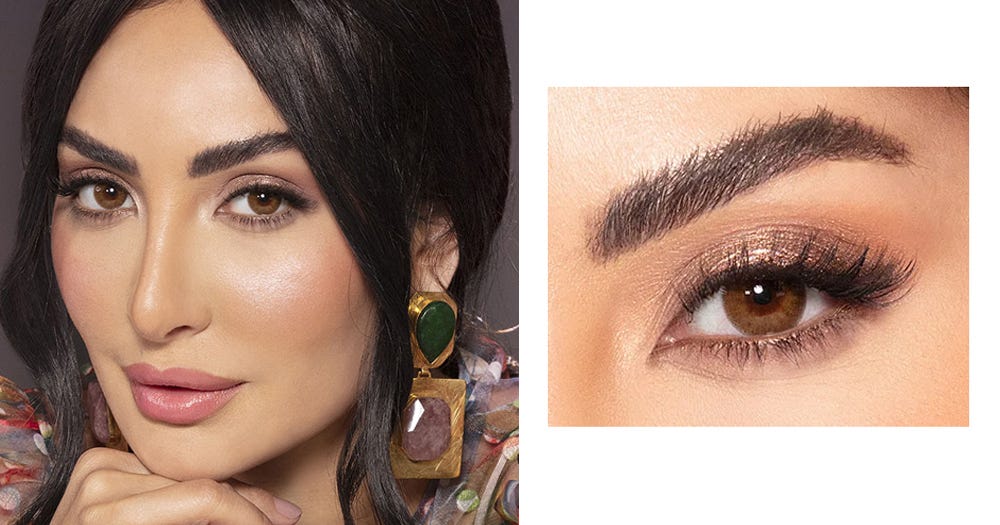 View Product
20. Bella Elite Gray Beige
Last but definitely not least is the beautiful Gray Beige, another recommendation to you from the Bella color contact lens brand. A toned-down gray poured with generous hazels around the pupil hole, Bella Elite Gray Beige will make you fall in love with your new eye color! We highly recommend these colored contacts if you're new or exploring gray colored contacts. Bella Elite colored contacts can last for up to 3 months if you look after lenses properly and follow the recommended usage period.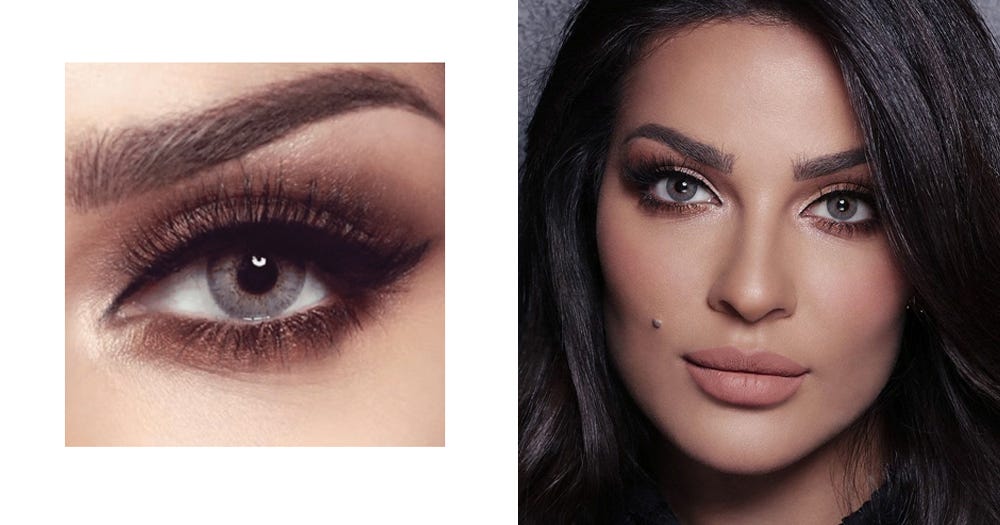 View Product
The lists above are just some of the best colored contacts we offer on lens.me! With over 250 shades of colored contact lens options in greens, hazels, blues and grays to choose from the best brands, you are sure to find the perfect pair that will boost both your natural beauty and confidence. If you need assistance selecting your first or next pair of colored contacts, our live chat is available 24/7, or speak to one of our colored contact lens experts over the phone.