Spooky season is here, the season for all makeup fanatics. So put aside your pumpkin spice latte and pick up that eyeshadow brush, for we have the best makeup looks with colored contacts for Halloween 2022.
Whether you are going to a Halloween party or going all out for that makeup transformation on TikTok, Halloween colored contacts are the best way to take your look to the next level. We have compiled a collection of the best makeup looks inspired by your favorite characters and looks created by top beauty influencers to inspire you this Halloween.
Without further ado, let's explore the 23 Best (and some Scary) Halloween Makeup Looks paired with colored contacts that will make you stand out from the crowd be it in trick-or-treat or Halloween parties!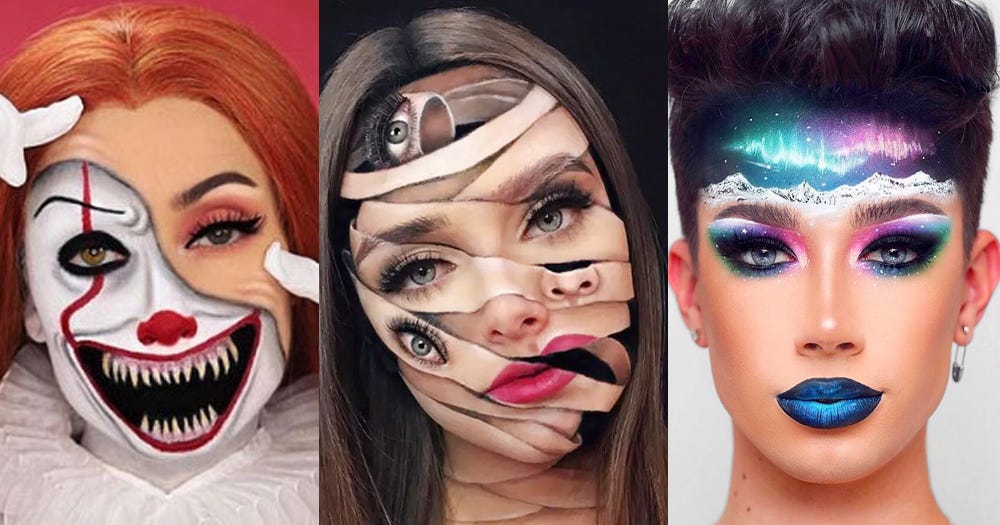 2022 Trending Halloween Makeup Looks Paired With Colored Contacts
Halloween Makeup Looks with Gray Contact Lenses
Halloween colored contacts don't have to always be super scary or crazy out there. If you're going for glam or simply transforming into your favorite character, gray contact lenses can help you achieve the full potential of your look. If you're diving into the glitz and glam of Euphoria High or creeping into the depths of Pennywise the clown's world, a gray contact can really enhance your look.
Maddy from Euphoria
The Maddy cat eye is one of the most iconic looks for 2022, if you've watched season 2 of Euphoria you will have almost certainly noticed the way she adds a Euphoria sparkle to the classic cat eye, no wonder this look is trending! To recreate this stunning look, you will need a dark brown shadow, and a precise liner brush to build and blend the browns from a dark shade then gradually go a little lighter, to accentuate your lids add a dark glitter for that Euphoria sparkle. Finish your look with your Beleza gray lenses to make your eyes pop against the browns.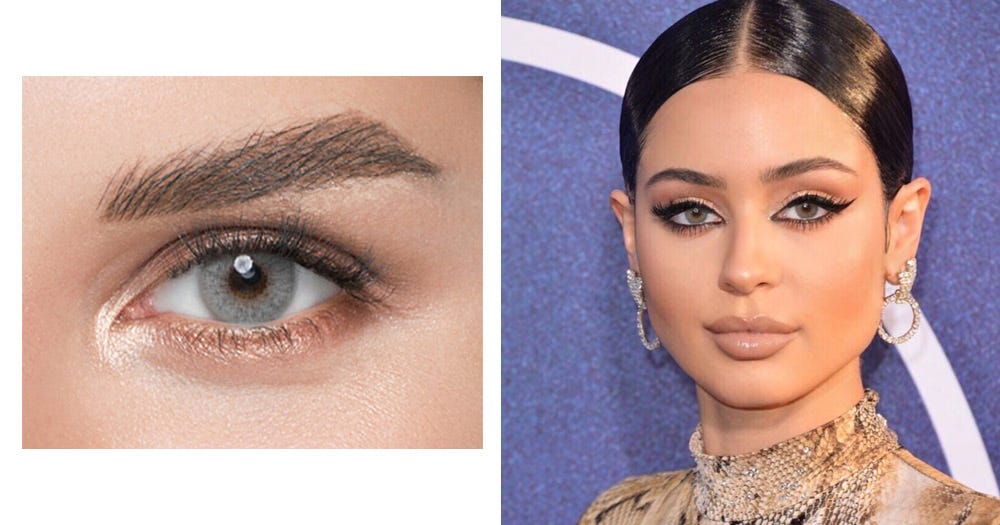 View Product
Pennywise The Clown (Stephen Kings IT)
Pennywise is a highly adaptable look, you can take this look down a creepy path or a mysteriously alluring route. For this look, you will need blendable black paint and red eyeshadow. Start with lining out where your black paint will go and fill out the shapes, then start blending the red eyeshadow on the edges of the black to create depth to the clowns' paint and add your brightest red lipstick. To get the piercing eye stare of Mr. Pennywise himself, add the Hidrocor Cristal contact lenses.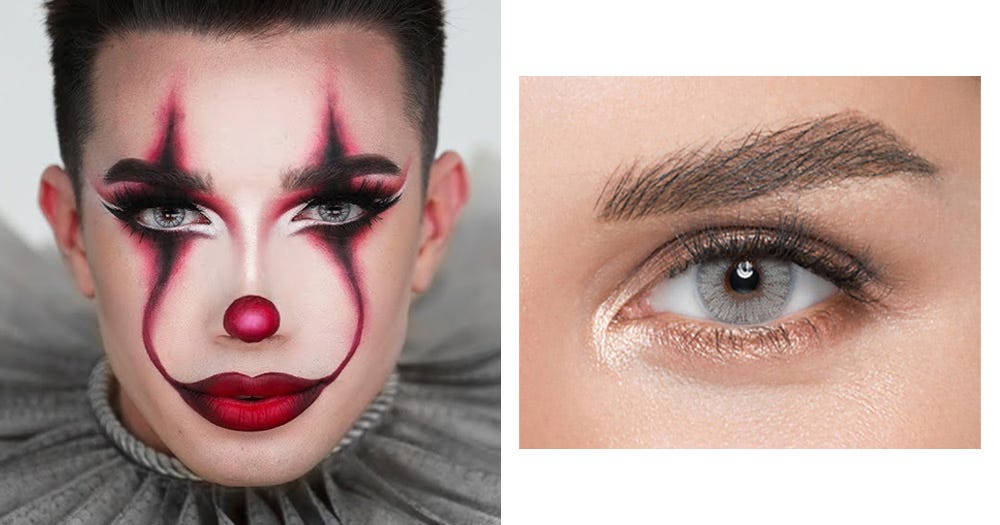 View Product
Sugar Skull Makeup
A look full of cultural celebration, based on the famous drawing named "La Catrina" which is the icon of the Mexican Day Of The Dead. The sugar skull combines glamour with death, the ideal look for someone wanting a glam Halloween look. To create your sugar skull, you need some gemstones and adhesive, a color paint of your choice, and a black liquid liner. Start by blending your eye paint up to your eyebrows, add your gemstones to the edges of your eye paint and draw the skull noise shape onto your nose and teeth lines on your mouth. Finish off your look with the stunning Bella Glow Husky Gray Green colored contacts.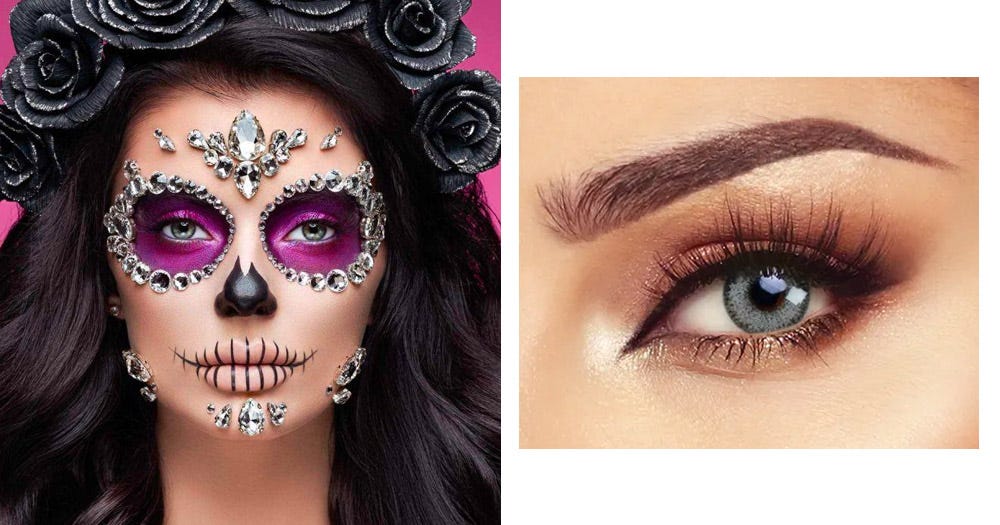 View Product
Black Panther
Wakanda forever! This Marvel-inspired look is created with the most beautiful gold colors to recreate the costume of the Black Panther Marvel Character. Paired with our Anesthesia Addict Lolite Lenses, this look creates a powerful stance in the collection of Halloween makeup looks, you will need gold face paint for this look. Start by planning where your war paint type lines will go, and then fill them out with your gold paint.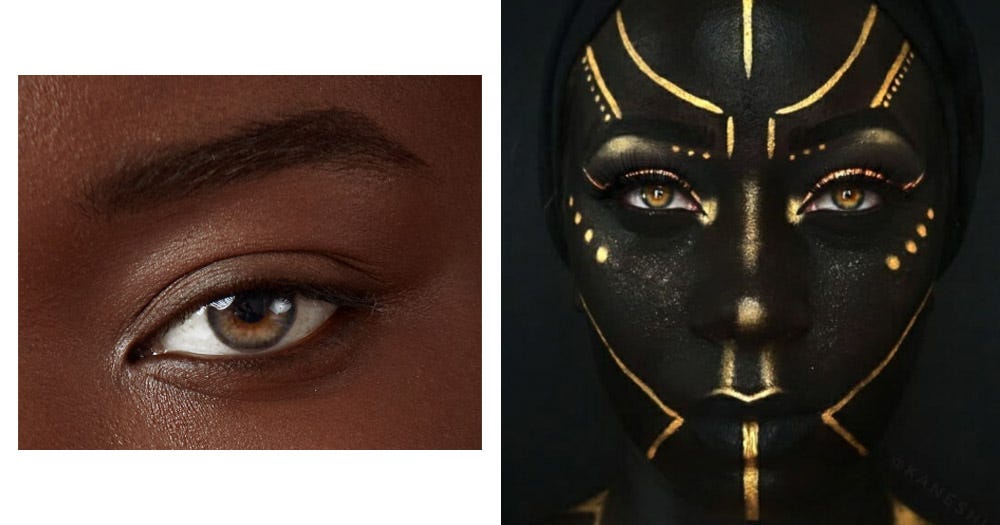 View Product
The Nun
James Charles created this chilling Nun look on his YouTube channel. The use of Halloween contact lenses makes this chilling look come to life. To recreate James' look you'll need some black and dark red eyeshadow, fake blood, and black lipstick. The Hidrocor Ice lenses are the perfect match to recreate those piercing lighter eyes.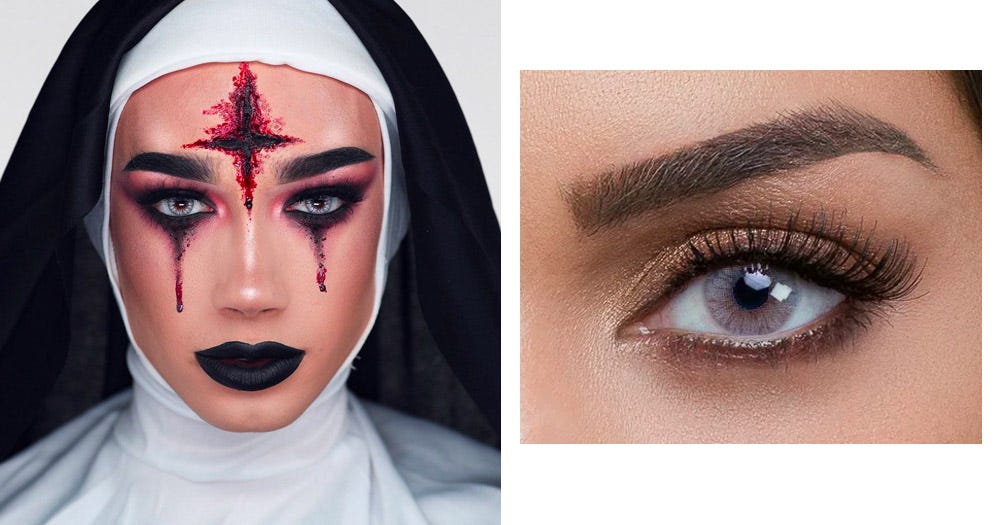 View Product
Halloween Makeup Looks with Green Contact Lenses
With prescription colored contacts or non prescription colored contacts, Halloween lenses are for everyone. Even what you may think is the most natural color, can transform your Halloween makeup. Check out our amazing green color contact lenses for the ultimate Halloween natural switch up.
Cruella DeVil (Disney's Cruella)
Cruella DeVil is the ultimate fashion icon, and this makeup look is a great one for everyone to try. To start you need a dark eyeshadow to create the smokey eye effect, and a light foundation to get that ghostly pale look. Add some luscious long eye false eyelashes, a daring red lipstick, and for the finishing touches the Hidrocor Jade contact lenses for that very Cruella sharp stare… Muah ha ha haaaaa!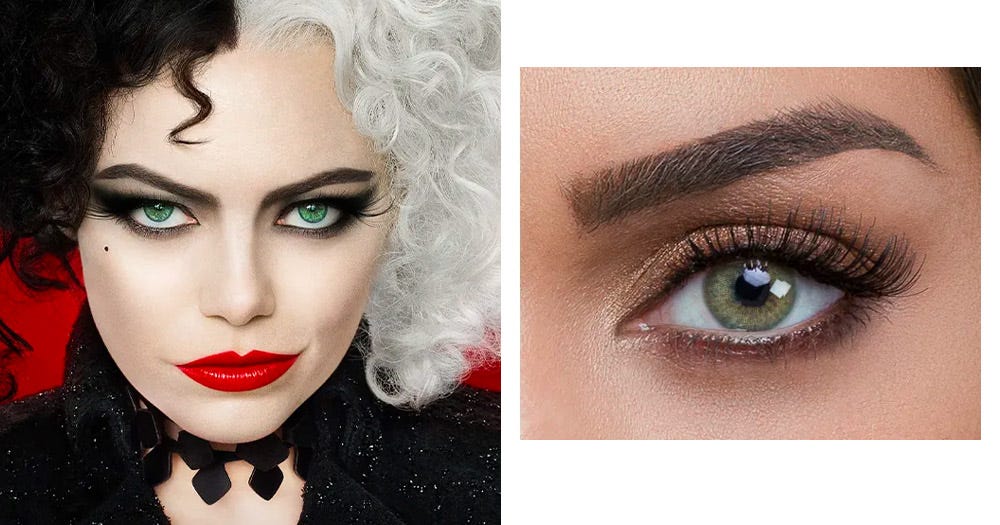 View Product
Golden Witch
This golden look will bewitch everyone in sight. For this look, you will need liquid gold paint, some warming eyeshadows, black lipstick, and some thick lashes. Start by doing your base makeup as usual, when your base is done get a yellow shadow to blend on your neck and forehead. Then create a sunset orange eyeshadow blend. With your gold paint grab a precise liner brush and plan out your shapes, transition into a bigger brush for filling in your shapes. Finish off with black lipstick and a very dark contour. To truly capture your bewitching stare, add the a href="https://www.lens.me/aquarella-sea-green">Aquarella Sea Green contact lenses.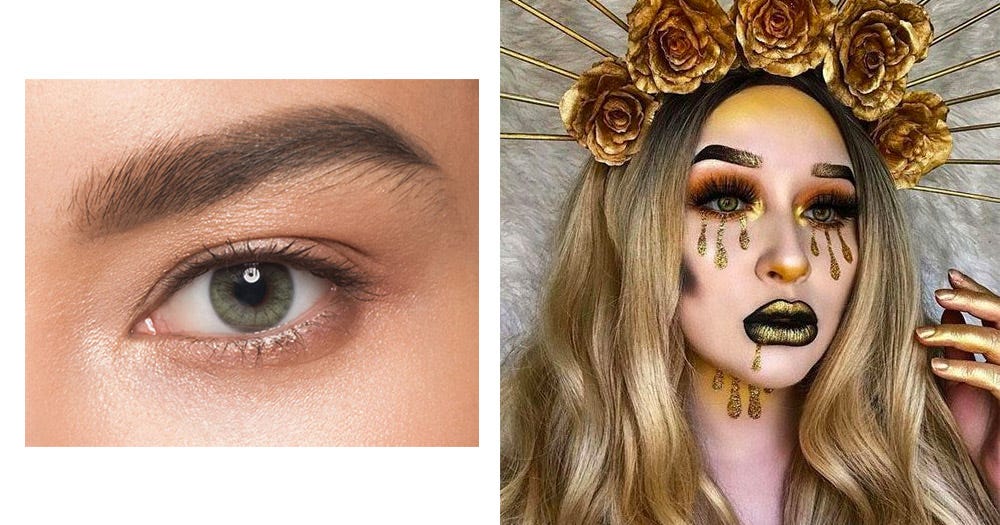 View Product
Morticia Addams (The Addams Family)
The most creepy family on the planet, the Addams family are the epitome of Halloween. Her fiercely protective character is enough to spook her audience, with Aquarella Samba Green colored contacts you can fully express her personality. Start this look with a deathly pale foundation base, for the eyes a 90s smokey eyeshadow look, and a bright red lip. And make sure you finish your look with a black costume, because "Darling I always wear black".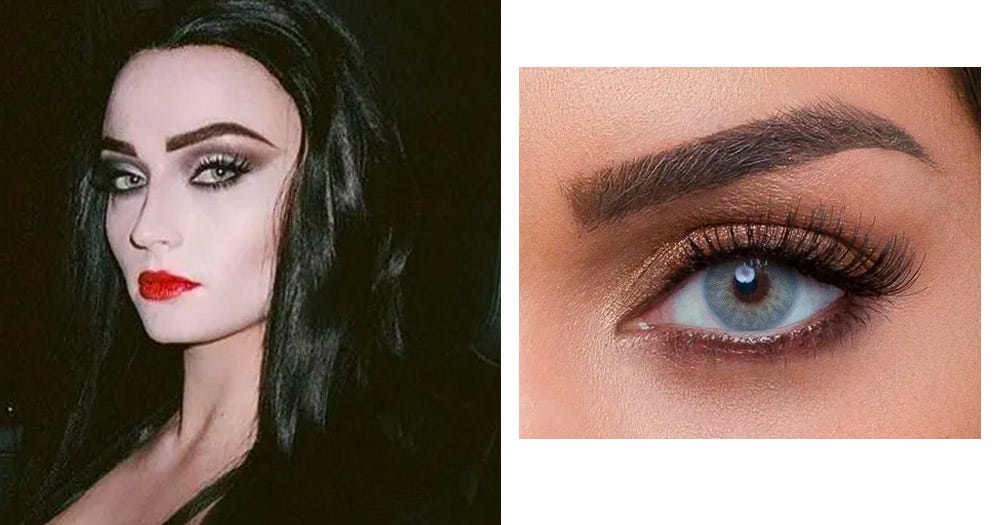 View Product
Spooky Bat Inspired Makeup
This fun look has taken the classic spooky bat and made it cute! You will need dark brown and black eyeshadow and some hella thick lashes, black liner for the freckles and nose, and a deep burgundy lip shade topped with white liner for the teeth. Bright enough to light up a haunted mansion, the Bella Elite Emerald Green lenses will make you stand out from the crowd.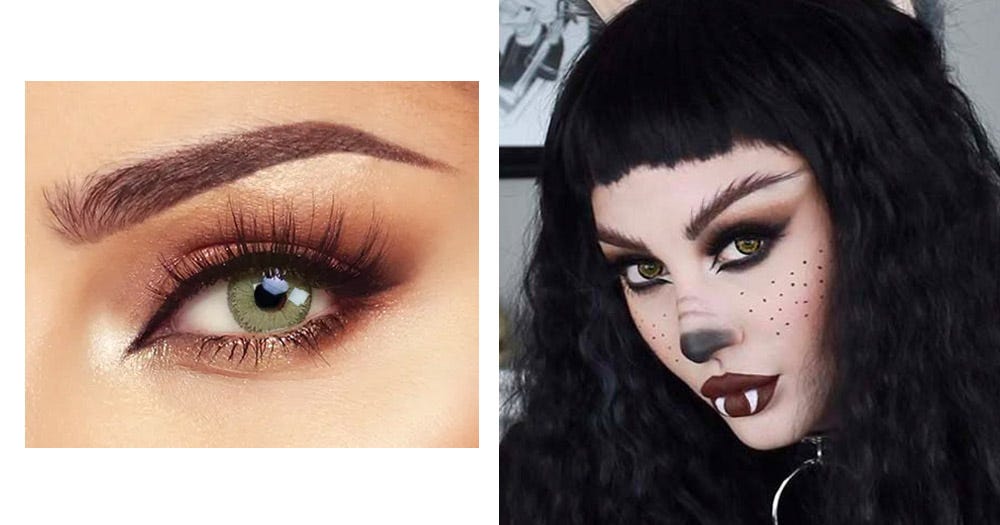 View Product
Poison Ivy
Inspired by the DC comic book character, Poison Ivy is a popular cosplay costume. To reach the full potential of a look, cosplay contacts are essential. Anesthesia Anesthetic Fonesta contact lenses bring animation to your Poison Ivy look. Paired with red eyebrows, lipstick, and hair. The green pop of color is enough to mesmerize everyone around you. To make your look extra dazzling don't forget to add some gemstones!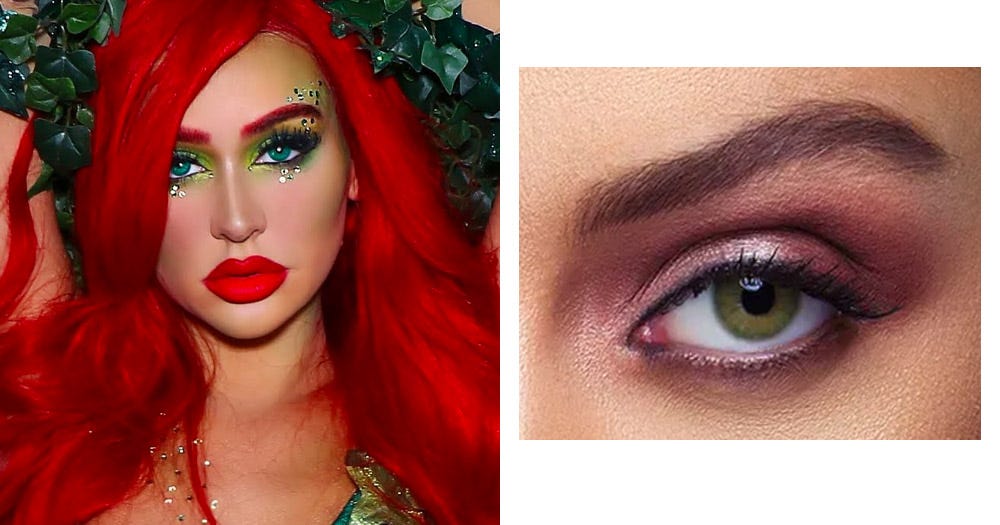 View Product
Halloween Makeup Looks with Hazel Contact Lenses
With the warm colors of autumn being the inspiration for some Halloween looks, hazel colored contact lenses can really take your look to the next level. From earthy browns to deep maroons, your Halloween looks will be absolute fire with hazel colored contacts.
Pumpkin Queen
Pumpkin spice latte, or pumpkin spice queen? This outstanding look is created with orange and black blendable face paints. Our Aquarella Sienna Brown lenses settle in beautifully to this look, creating that deep brown to encompass the warmth of an autumn pumpkin. With a slightly sinister twist, this look captures the menacing face of a Jack-o'-lantern by animating the features with shadowing and detailing.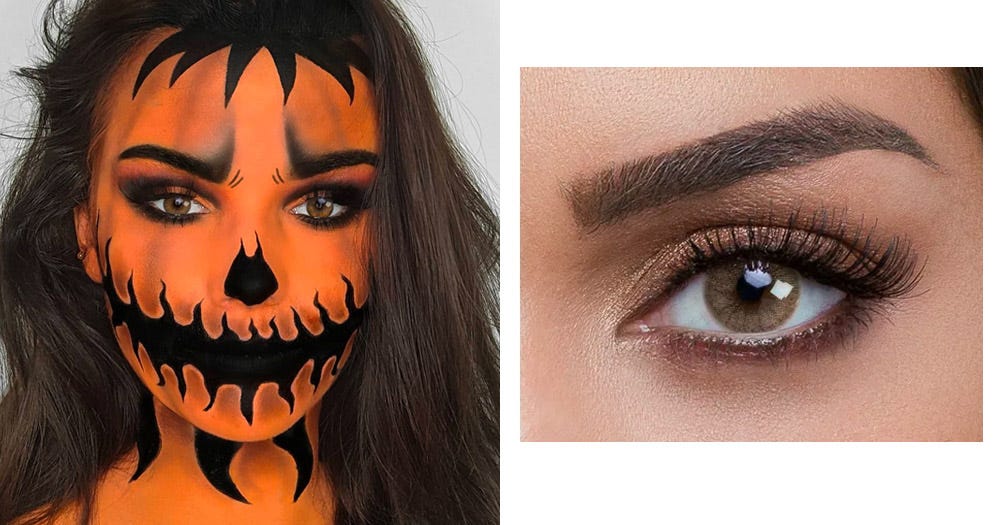 View Product
Medusa
Freeze your friends in awe with this medusa inspired look. If looks could kill (or turn you to stone) then the glare through the Anesthesia Addict Marron lenses could do just that. Paired with gold and green this look is pure reptilian royalty. You will need green and gold eyeshadow for this look, as well as a khaki green for the lips.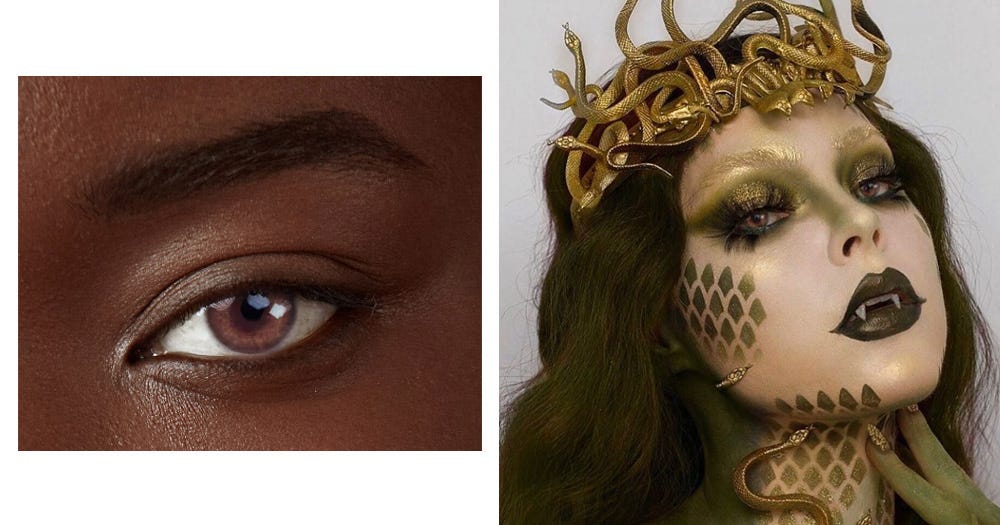 View Product
Angel From Heaven
Did it hurt when you fell from heaven? This innocent look is created with pearls, cotton, white eyelashes, and white hydro liner. Simply use a gem adhesive to apply your pearls. A cute angel wing pattern for your eyelids and bright fluffy white lashes. A bit of cotton on your cheeks for depth (you can use the gem adhesive to stick the cotton) You can pair with Aquarella Dandara Hazel lenses or be really bold with white Halloween contacts.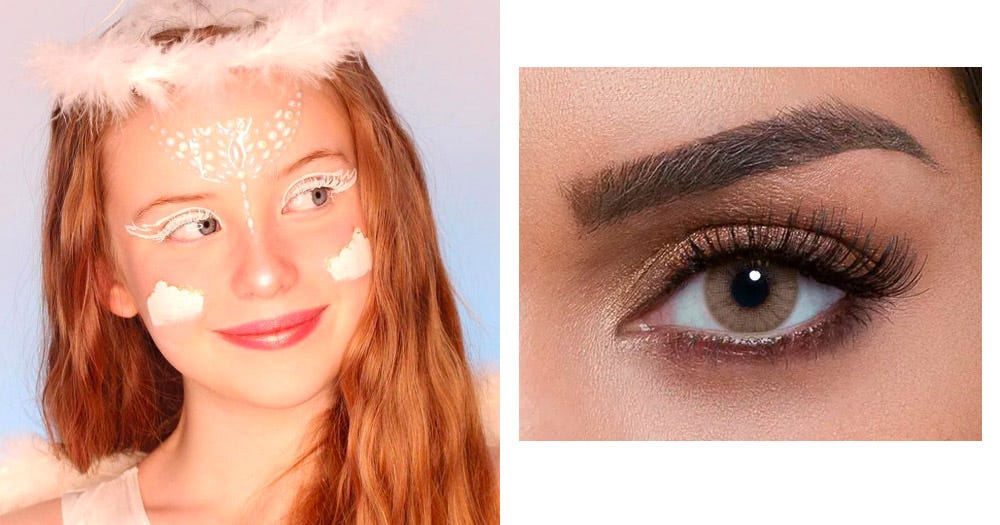 View Product
Black Widow
Blow away your pals with a Black widow Halloween cosplay. A full glam makeup look with our gorgeous Amara Burned Cinnamon lenses. For this look, you need an orange wig, long strip lashes, a nude/pink lip color, and an orange eyeshadow. Make sure you pair this with an all-in-one black jumpsuit to fully capture Natasha Romanoff's powerful character.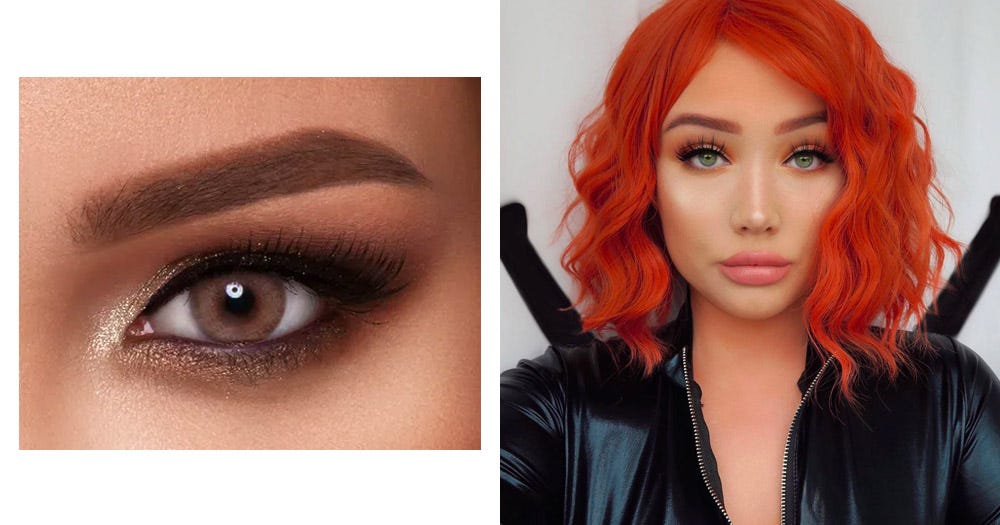 View Product
Wonderwoman
Wondering how to recreate this wonderful look? You will need some gold face paint, black water-activated liner, red and white paint, and red lipstick. Start by doing your base makeup as normal, with a brown eyeshadow. Then grab your gold paint and create the shape for your crown and fill leaving a star-shaped space in the middle. With your red paint create the star shape on the crown. Now with the black liner add the detailed comic-book style cartoon lines on the features of your face. Top your lips with your red lipstick and add the white carton details to them. Add the Bella Elite Sandy Brown color contact lenses to deepen your eyes and bring the full force of your look together.
View Product
Halloween Makeup Looks with Blue Contact Lenses
Blue colored contacts will open your eyes to the endless possibilities for Halloween makeup looks. With only 8% of the world's population having blue eyes, an opportunity to join in on the brightest eye color will allow you to intensify your look.
Maleficent (The Evil Queen)
The Evil Queen of Maleficent can pierce through your soul with just one glare. With Aquarella Noronha Blue contact lenses you can step into Angelina's character and become devastatingly devious this Halloween. This look is mainly glam with a heavy exaggerated contour to achieve the sharp jawline and cheekbone effect. Find the brightest red lip you own and you're all set! To top off this look you can add a black leather looking headdress with horns.
View Product
Aphrodite, The Greek Goddess of Love
Fall in love with this golden look of the Greek goddess Aphrodite. This look is dripping in luxury with its gold features. You will need some gold foil flakes, golden face and body paint, warm orange eyeshadow shades and a white hydro liner. Solotica Hidrocor Safira contact lenses will give you the true eye color of Aphrodite herself. Finalize your look with a blonde wig and golden headdress.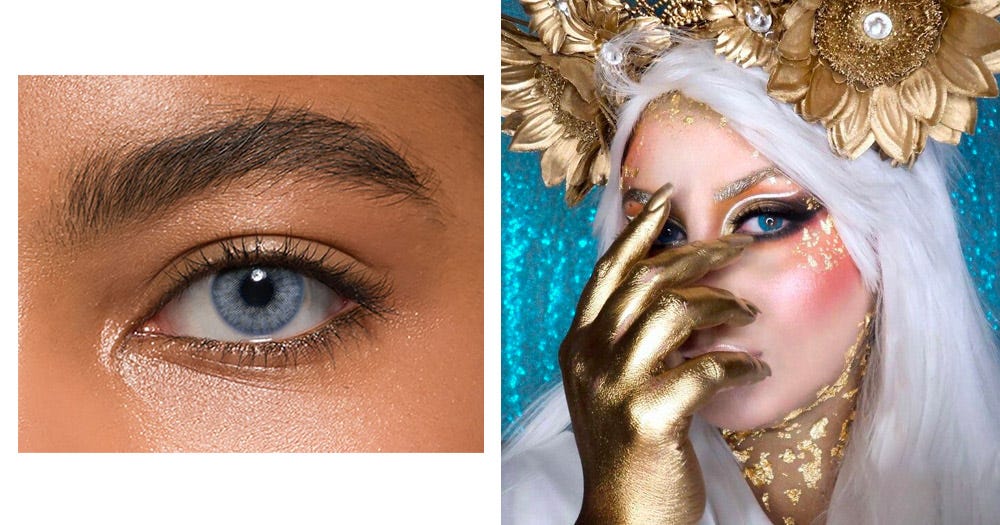 View Product
Witch of The Night
For this gorgeous gothic glam makeup you will need a range of purple eyeshadows, a deep purple lip gloss, black liquid liner and the Bella Elite Midnight Blue colored contact lenses to add an icy chill to your stare. Create your foundation base, a little lighter than you normally would and add a blinding highlight to your nose. Start to blend your purple eyeshadows starting with your darkest shade and working lighter towards your brow. Make sure your eyeliner is super chunky and sharp to add to the dark features of this look. Finish with the purple lip gloss and pop in your Halloween contacts.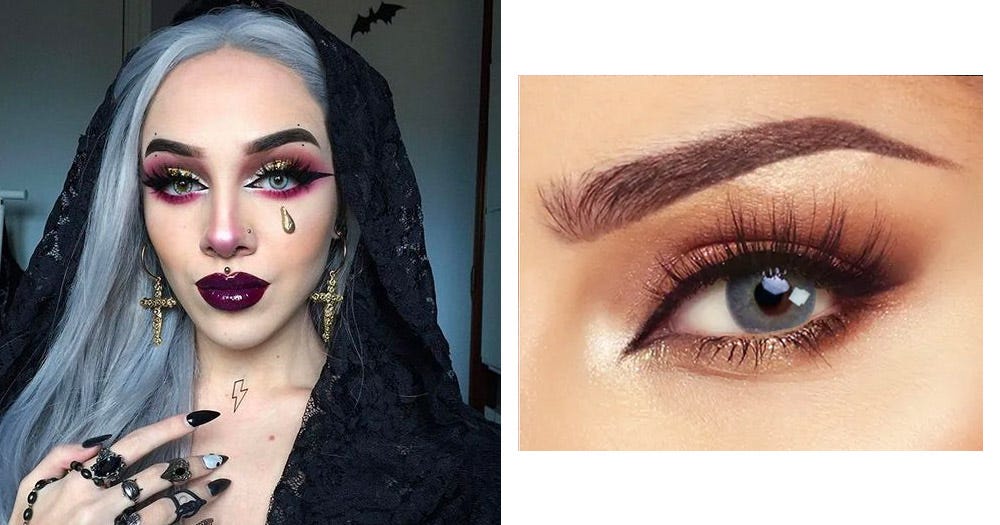 View Product
Candy Girl
This super sweet look for sure won't leave a bitter taste in your mouth. Bursting with color this fun look will need a variety of color paints, pink eyeshadow and lipstick, and our beautifully bright Aquarella Arara Blue colored contacts to accomplish the full potential of this look. Start with your foundation base, contour and highlight with your pink eyeshadow. Start to plot out the candy shapes on your neck and face and shade them in with your colors. For added detail, a pink wig styled into loose-fitting space buns and filled with candy will sweeten up your look.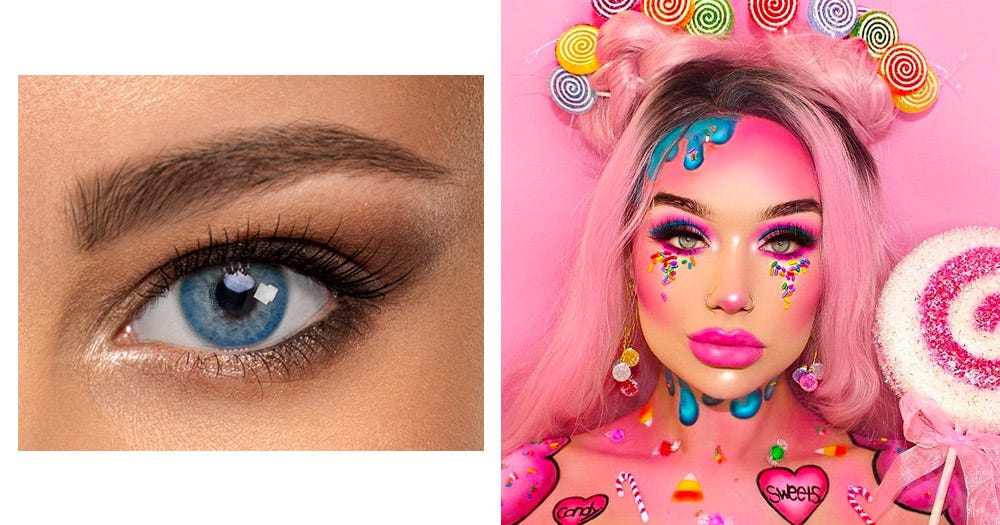 View Product
Chucky
Creep out your friends with his Chucky doll makeup look, inspired by the 1990s film "Childs Play". Start this look with your normal foundation base, and a dark red and black eyeshadow blend. Plot out your scars with a dark red shadow and expand with a lighter color. Add the details of the stitches with a gray hydro-liner. Created a blended lip color by lining your lips with a dark brown/black shade and filling in with a red shade. Insert the Anesthesia Addict Blue lenses for the finishing touches!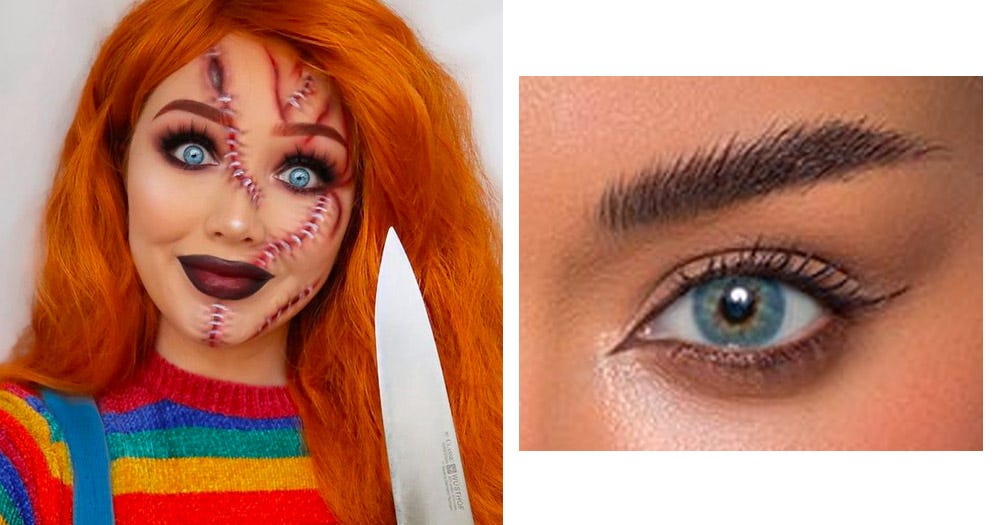 View Product
Halloween Makeup Looks with Crazy Lenses
Crazy colored contacts are the best way to maximize your Halloween look, really stand out with our vibrant colors and be the best dressed at Halloween parties. Choose from vampire red, pure white and snake eye yellow color contacts.
Wanda Maximoff from WandaVision
Envision yourself being a Marvel character? Transform into the Scarlet Witch with our bedazzling red Solflex Color Hype Vermelha red contact lenses. Bright enough they can most likely be seen from Asgard, these Halloween colored contacts create the ultimate Wanda cosplay. For the makeup, a deep maroon colored lipstick, bronze color contour and a smoky eyeshadow blend. Complete your cosplay with a scarlet witch crown, and something similar to her traditional sokovian dress.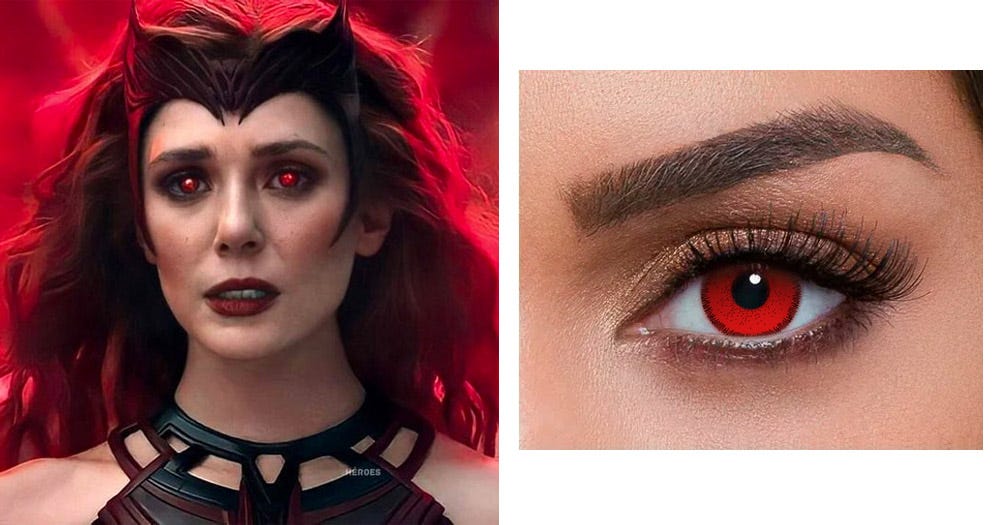 View Product
The Joker
Why so serious? Smile at this Joker makeup look, when you add our white Halloween contacts. The Solflex Color Hype Branca lenses are a startling bright white color, ideal for your joker look. To recreate this look you will need; white, green blue and pink face paint. The great thing about this look is it needs to be messy! Start with your white face base, and sponge it on, smudge the blue paints around your eyes and the pink around your nose and mouth. Grab a detailing liner brush to then go over and add the color bleed lines around your eyes and mouth. Wet your hair and smudge the green paint into it. Lastly, pop your white colored contacts and smile!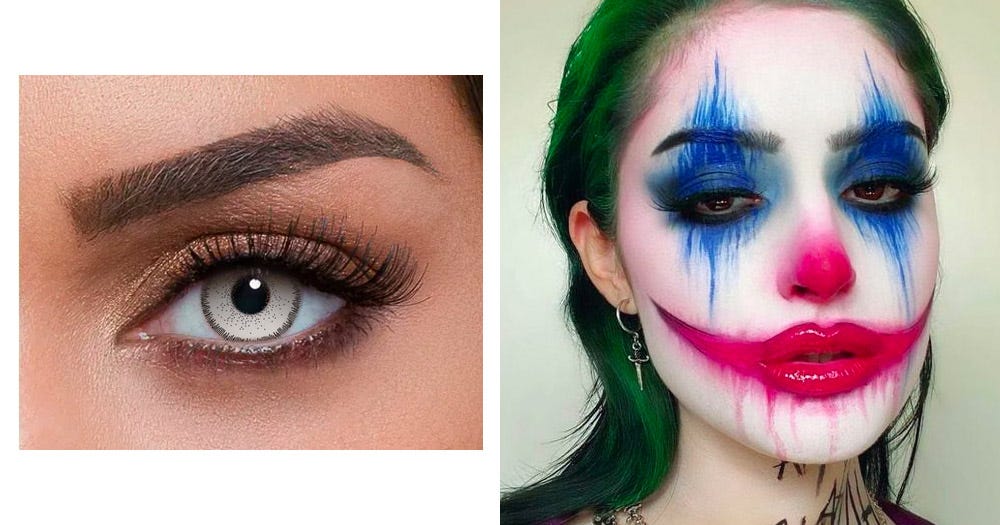 View Product
Geralt of Rivia (The Witcher Movie)
Geralt of Rivia has the hearts of many, and the eyes of few. With a snake eye yellow color, the Solflex Color Hype Amarela, yellow contact lenses will magically enhance your cosplay. Bring your costume to life with a long blonde wig, and some black leather looking armor.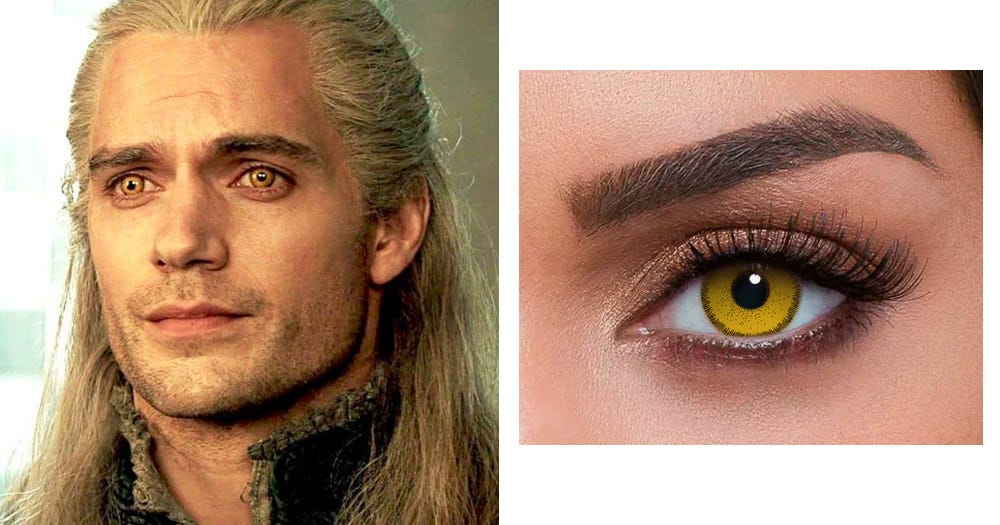 View Product
Which colored contacts are safe to wear this Halloween 2022?
All our Halloween-colored contacts are safe to use, at lens.me we are an authorized retailer for top clear or color contact lens brands. We supply FDA approved and fully safe contact lenses. Make sure you get approval from an optometrist to check your eyes have the correct prescription for your lenses.
Can you wear Halloween contact lenses with a prescription?
lens.me sell all lenses for prescription and non-prescription, as well as toric lenses for astigmatism so anyone can wear them. To be prescribed correctly, check with an optometrist for approval to wear prescription Halloween colored contacts.
Where to order colored contact lenses for Halloween?
lens.me is a fully authorized retailer for safe Halloween contacts that are FDA approved. Do not buy unsafe lenses from places such as street markets and fancy-dress shops as these lenses could scratch and even scar your cornea leaving you with permanent damage. Browse our safe crazy colored contacts today.
How long can you wear Halloween contact lenses?
Daily colored contacts must be disposed of after first use, however, Lens.me offers a range of lenses with the usage of up to 12 months. Make sure to check how long your contacts are intended for use, and regularly clean and disinfect your regular usage colored contacts.
How to wear Halloween colored contacts?
Wash your hands thoroughly before you open your Halloween colored contacts and remove the lenses from their packaging. Select the first lens to put in, check you have the lens for the correct eye and is the right way up (it should be bowl-shaped). With your other hand place your finger over your eyelashes and lift your eyelid. Stare forward into the mirror and place the lens on top of your iris. Allow time for the lens to settle and then blink a few times. Repeat this process for your other eye. To remove the lens, carefully pull down your lower eyelid and gently pinch the contact to pull it down away from your eye. Don't forget to dispose of your dailies and thoroughly disinfect your reusables.
So, there you have it the best makeup looks with colored contacts for 2022. With Halloween creeping around the corner, you have endless options for what to wear. From red Halloween contacts to the brightest blue, deep brown or sickly yellow, our crazy contacts can fully metamorphose your Halloween makeup. Shop our Halloween colored contacts today and don't forget to tag us in your Halloween makeup looks!