The new year brings a fresh start, new year's resolutions, and a new Pantone color of the year 2023. It has been announced that Viva Magenta is the color for 2023. This is a shade with deep natural roots, descending from the red family. It signals strength, fearlessness, and celebration. Everything needed for a successful new year. It's a crimson red that has a balance between warm and cool tones.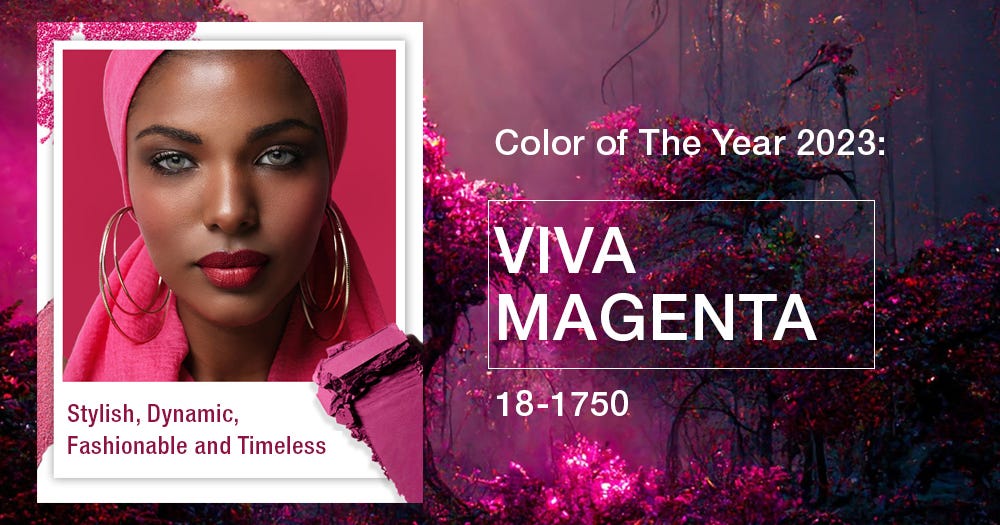 This Pantone color of the year acknowledges natural colors and movements towards climate change, land protection, and sustainability, which is something at the forefront of most people's minds. Now, this color wasn't just picked out of a hat randomly, Pantone observed the world and trends in 2022 and saw the appreciation for living things in our homes such as house plants, outdoor spaces, and living walls. With the enjoyment of more things outdoors following the pandemic years of being inside. Viva Magenta has origins from the cochineal beetle, an insect that produces carmine dye, one of the strongest natural dyes, emphasising on the element of nature in our lives.
The Psychology behind Viva Magenta
The color red is used to celebrate life. Viva being a bright crimson red holds a balance between feeling fun and being bold. This gives a level of fierceness to our grace and encourages humanity and confidence. With the online digital world ever-growing, we are increasingly more connected to each other, and although we never will know what someone else is thinking, there's no reason not to encourage and improve our empathy for others. Viva Magenta encourages the desire for new challenges and the development of compassion.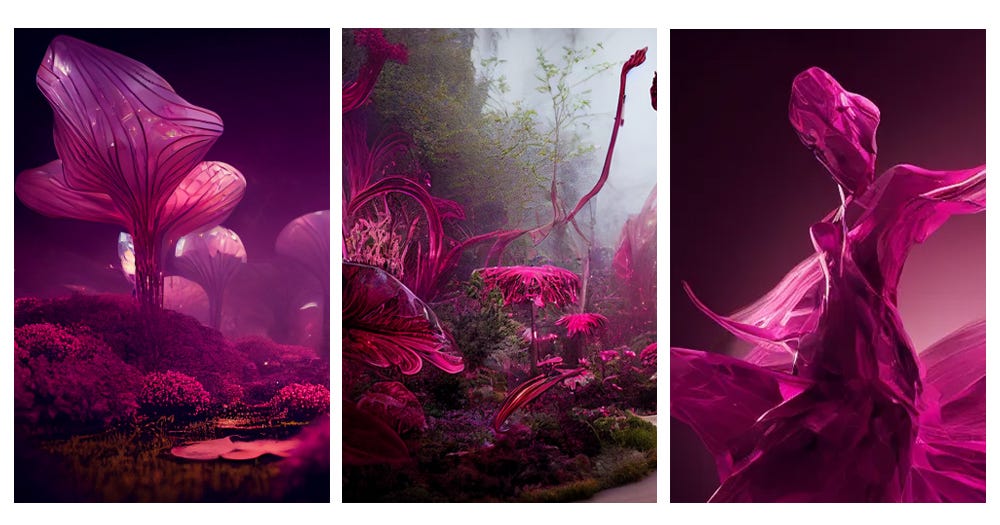 The beauty of this shade is that it can be manipulated to your taste, and because of how versatile this shade is, having warmer and cooler tones, it's suitable for all ages, skin tones, and genders. If you want to make a bold statement, or simply brighten up your look you can try Viva Magenta.
In order to make the most of this outstanding color, we have put together some fantastic ways you can incorporate it into your life, and which colored contacts work best for your eyes. So, you can take on new challenges the year 2023 has to offer fiercely and with the same level of grace, as the color Viva Magenta suggests.
Viva Magenta Beauty On Green Eyes
There are several ways in which you can incorporate the color of the year. Because the shade is a mixture of warm and cool tones, it complements a wide range of skin tones. With green eyes, typically people have cooler tones of skin. As red sits opposite the color wheel to green, Viva Magenta will match perfectly.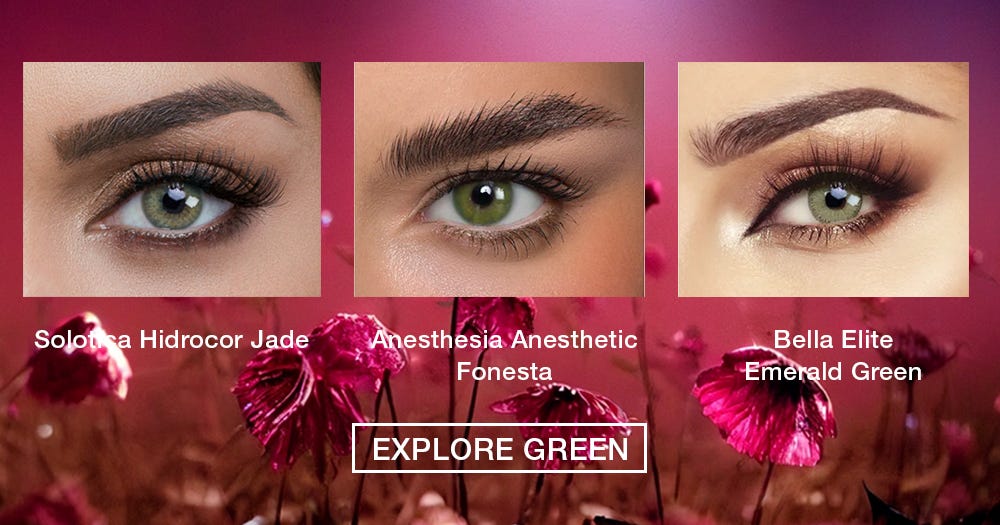 With Hidrocor Jade color contact lenses you can experience a natural green look, perfect to pair with a Viva Magenta eye shadow. By putting a pop of Viva blended with an orange and red, you can create a mesmerizing sunset blend, pairing with the green of your lens incredibly. Viva also pairs with deep maroons and browns, another set of colors that match excellently with green eyes. Anesthesia Anesthetic Fonesta contact lenses will bring out a forest green shade that will pair with the warm tones of the Viva and bronze colors.
Bella Elite Emerald Green lenses boast an emerald green, put together with a Viva Magenta eyeliner and you have the ideal combo. Try a liquid-colored liner, however, if you don't have a similar Viva shade then you can use a flat angled brush to form a liner shape with eyeshadow. You can blend out the shadow liner with a deeper red for a full Magenta effect.
Viva Magenta Beauty On Hazel Eyes
Another way to add the spice of Viva to your life is to pair your incredible natural hazel eyes with a fiery Viva Magenta lip shade. There's no bolder way to incorporate color into your makeup than with a bright lippy. Pop in your Aquarella Dandara Hazel color contact lenses without a limbal ring for the ultimate natural look. Perfect to pair with your bold bright lip shade. If you have a Viva Magenta shade of lipstick, you can just go straight in with that. However, if you want to add some depth, line your lips with a deeper darker shade, either a brown or a deep red. This will create a dramatic ombre effect.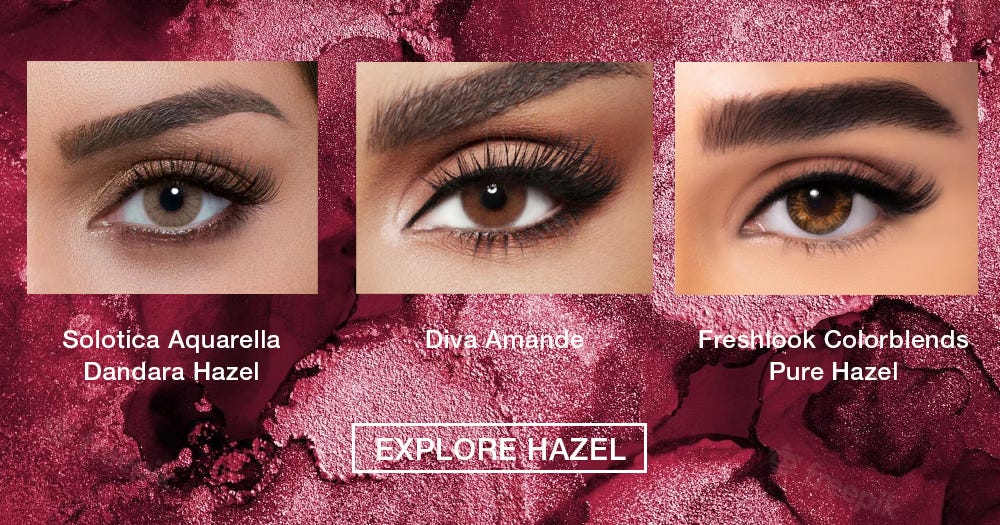 Freshlook Colorblends Pure Hazel contact lenses would work well with a Viva Magenta shade under the eye. If you have a warmer eyeshadow look, a fabulous way to add a pop of color is to either blend shadow on your bottom lash line or use a colored liner for your water line. Both ways add a pop to your otherwise naturally shaded eye.
Diva Amande lenses are a warm bronze hazel color. Which would complement a golden eyeshadow look. To add your hint of Viva Magenta you can look into getting colored faux lashes. These are a fun way to add some color to your look that is a little more unique than an eyeshadow look. Pairing your deep hazel irises, with a shimmering gold shadow and Viva lashes you really will be a walking goddess. If you're not a faux eyelash wearer (we get you they take a bit of getting used to!) then you can buy colored mascaras for a slightly subtler way of coloring your lashes.
Viva Magenta Beauty On Brown Eyes
Similar to hazel eyes, brown eyes can pair excellently with Viva Magenta. However, if you don't feel like pushing the boat out with bold makeup looks, you can still have a little fun with the color. Adding a little color to your hair has become increasingly popular with trending hair color shades and hairstyles going viral. If you try Solotica Aquarella Castanha Brown colored contacts they are exceptionally deep in color. To make them pop you can try a full shade of Viva Magenta, or if you want something a little less permanent, you can pair a headband that's rich in the color Viva Magenta. There is an abundance of styles you can pop in your hair. Whether that's a scrunchie in a bun, or a tie headband creating a feature on your head.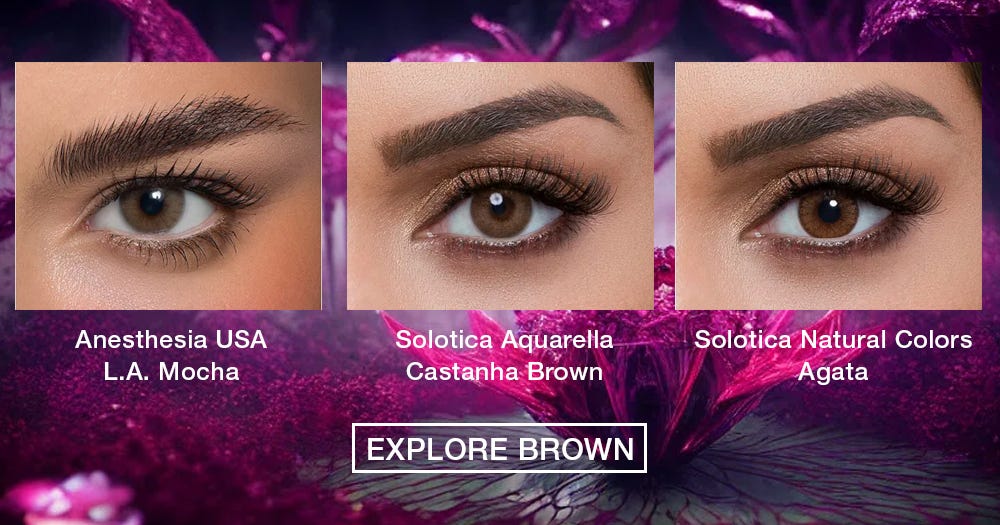 Solotica Natural Colors Agata lenses have a slight limbal ring, giving off monarch butterfly vibes, which will work excellently with a Viva Magenta colored hair flower, or butterfly clips. By incorporating the natural aspects from the lenses to the strong natural colors of Viva, you can really push the features of nature. Anesthesia USA LA Mocha color contact lenses provide you with the same natural beauty. Why not try adding a feature piece to your outfit with the color Viva? A scarf is a great way to add color without taking over the whole outfit completely, you can also add a hat for the same effect, whether that's a beanie, bobble hat or cap
Viva Magenta Beauty On Gray Eyes
Gray eyes are the rarest eye color in the world, with only 3% of the world population with this color, why not go that little bit further to stand out. Solotica Aquarella Alegria Gray contact lenses do just that. Another great way to add Viva Magenta to your look is to match your nails. You can either give some inspo to your nail artist. Adding either a feature color nail or making the whole nail look bright with Viva Magenta can really pop with these lenses. It may be a subtle match but very effective.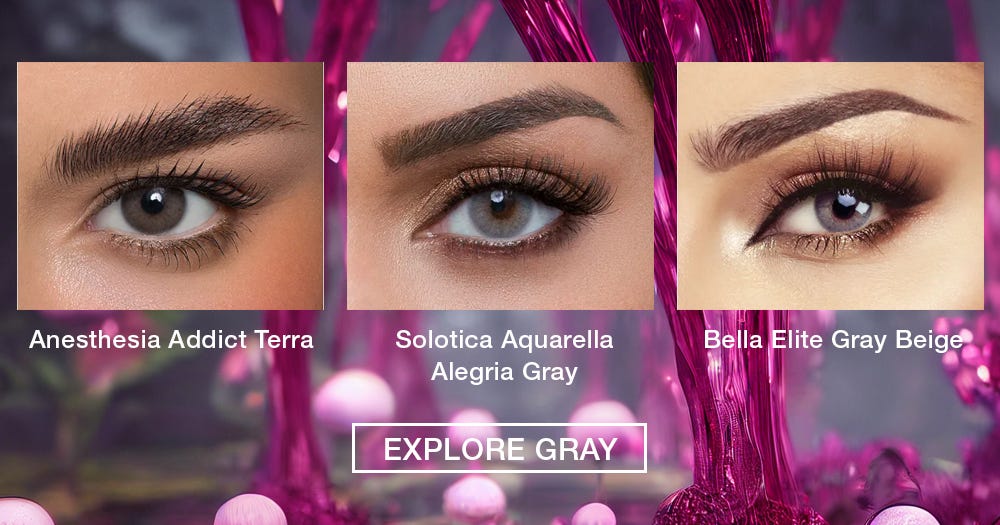 Bella Elite Gray Beige lenses have a warm purple tone, ideal for the addition of a Viva Magenta cheek shade. Adding a Viva shade blush to your look can increase the warming tones and make your cheeks shine. This will complement the warming tones of the purple in these lenses. Creating that balance from the cooler tones of the gray in the lens, you are adding a level of fun into your look that isn't too harsh for your look.
Viva Magenta has the right elements to make anyone, of any age glow. By adding Anesthesia Addict Terra lenses you can make a dark gray color and make it shine and glow with the color Viva. Try adding a statement piece to your outfit, if your feeling bold, a crimson coat will take your look to the next level. Or if you want something less bold, trying a shoe with the color in will create a more subtle but still noticeable look. Ever noticed the famous red bottom shoe? Girls if you know you know, a simple yet effective statement that screams confident girl boss. That is the look we're going for with our Viva Magenta shoes.
Viva Magenta Beauty On Blue Eyes
Brilliant bright blue eyes, and bold Viva Magenta, the color combo of dreams. Our Blue colored contacts can make your magenta look that oh so little bit better. Anesthesia Addict Blue contact lenses have a light topaz color that will fit excellently with your outfit. Viva Magenta can be put with bold patterns such as zebra or leopard print, to create a super fun and colorful fit. The whites, oranges and blacks of the prints create a perfect match for the pink hues of the Pantone shade.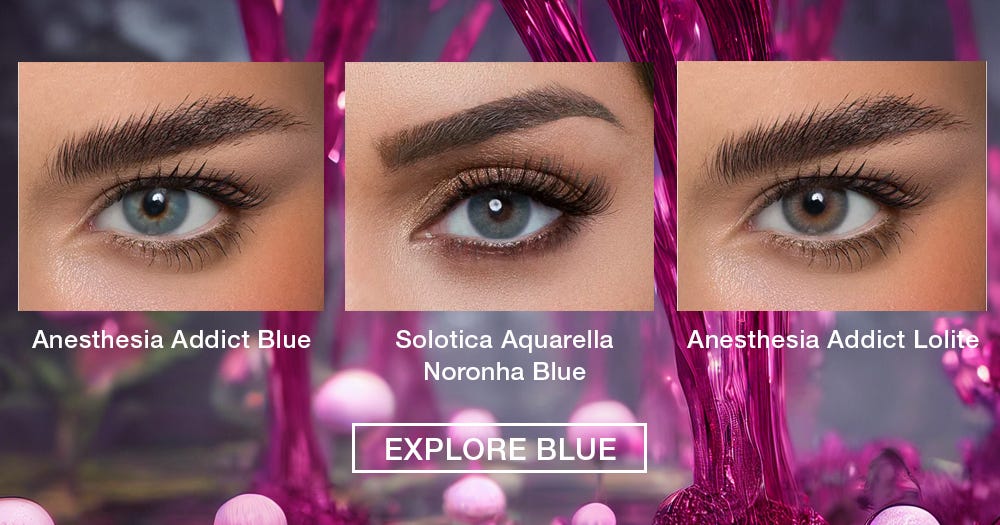 Solotica Aquarella Noronha Blue lenses are a magical light blue shade, another match made in heaven for our color of the year. For a look that's effortlessly classy, try wearing one simple piece that is Viva Magenta, whether that be a long dress or a jumpsuit. Adding silver heels and accessories you will simply look phenomenal. However, if one piece of Viva isn't enough, you can add some earrings with a delightfully crimson hue to keep the theme going strong.
Anesthesia Addict Lolite lenses there is a blend of maroons and blues. You know what that means, you can pair them with maroon color pieces in your outfit, however, don't forget that piece of Viva Magenta. You can choose to keep it casual with just one piece such as a coat to go over your outfit or go all out with several pieces of the color making your shoes and your top perfectly pink.
With the new year that's upon us, there is plenty of time to add your Viva Magenta shade into your day-to-day life. With our huge selection of color contacts who says you have to stick to just one? With a whole year to show off this fantastically bold, majestic color you can mix and match during the whole year. With this shade there is no limit to your creativity, from makeup looks to fashion pieces. This year could have a lot in store for us, with the power of TikTok making viral trends who knows where the color Viva Magenta will take us? For now, with your newfound knowledge of this fantastic color of the year, what will you do with it? Don't forget to tag us with your beautiful looks with your contact lenses!