Whilst we're busy opening our advent calendars and decorating for Christmas, the New Year gets closer and closer. As it's almost 2023 it means out with our old 2022 habits and in with some new ones. Whether that's going to the gym more often, or trying to eat healthier, everyone has goals. But why look dull while achieving those goals? You shouldn't be heading into 2023 with uncomfortable and boring color contacts. That's why we've put together the top 10 most comfortable colored contacts for you to wear in 2023, so your irises can sparkle in comfort while you're in your "New Year, New Me" phase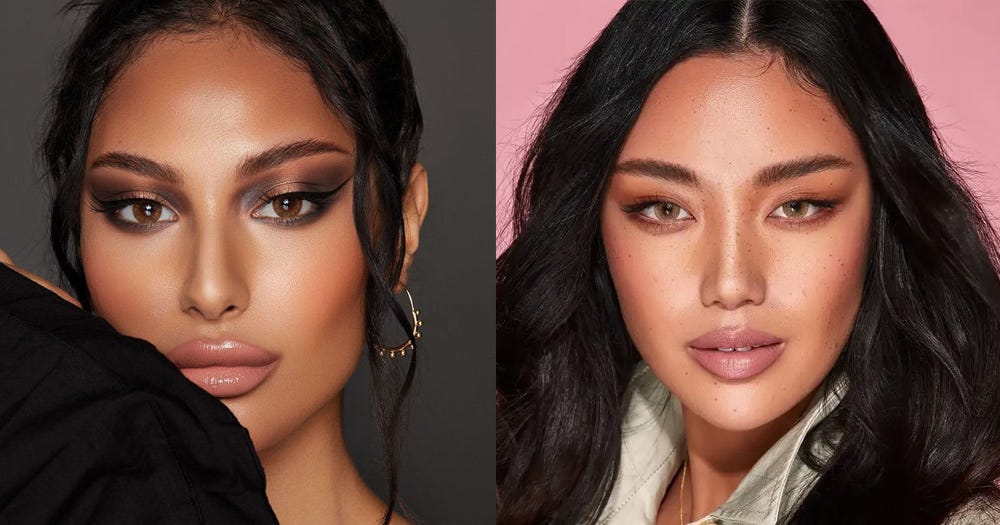 What makes a color contact lens comfortable?
Not all colored contacts feel the same. There are many factors that play into it, from the length they last, to the brand you buy with the materials they use. Sadly, due to the rise in the popularity of colored contacts, does mean there is a rise in fake sellers. This is why it's super important you make sure you buy FDA-approved colored contacts. Some of the most comfortable approved contacts are made from suitable materials such as Polymacon. It's a popular material used to make soft-colored contacts with a high-water content. This makes them maximum comfort as the oxygen can pass through to your eye and keeps your eye hydrated whilst wearing your lenses, reducing the risk of your eye drying out. Along with Phemfilcon A, Methafilcon A and Hioxifilcon A, which are all safe types of materials for your eyes. So, which colored contacts make the comfiest?
1. Anesthesia Color Contact Lenses
These beautiful colored contacts are made from Polymacon. They can be worn for up to 6 months, provided you look after them with regular cleaning after use. There are five dazzling collections of Anesthesia lenses; the Addict, USA, Anesthetic, Dream and Once. These outstanding lenses are made with a natural design and can transform your eyes from the darkest shades to the lightest tones.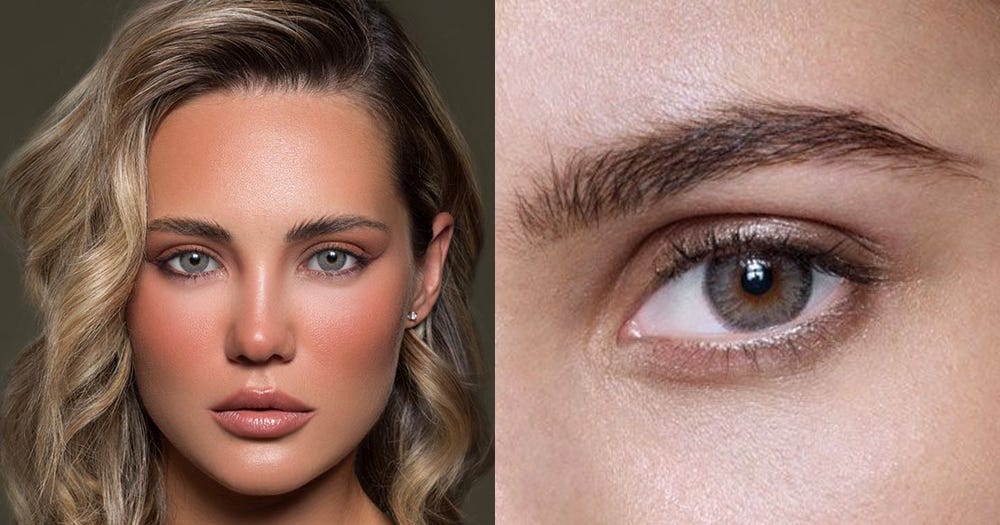 The USA collection has 12 colors to choose from. Inspiration from the cities of the USA you can select a dark tone L.A Mocha lens to enrich your eye with a warming shade, or ad a stark contrast to a naturally dark eye with the Miami Sapphire lenses. With a high-water content, these lenses make for some really comfy contacts.
View Anesthesia
2. Anesthesia ONCE Color Contact Lenses
The Once collection are single-use lenses designed to make your jaw drop and eyes pop. Because they are single use, they are thin and very comfortable, you won't even know they are there! With serious shades of bronze and blue, these lenses will transform any makeup look, or outfit to the ultimate next level. Feel like Katniss Everdeen is catching fire, with the Caramello lenses flame-like design. Or dress as a zombie for Halloween with the eerie Grayish Lenses.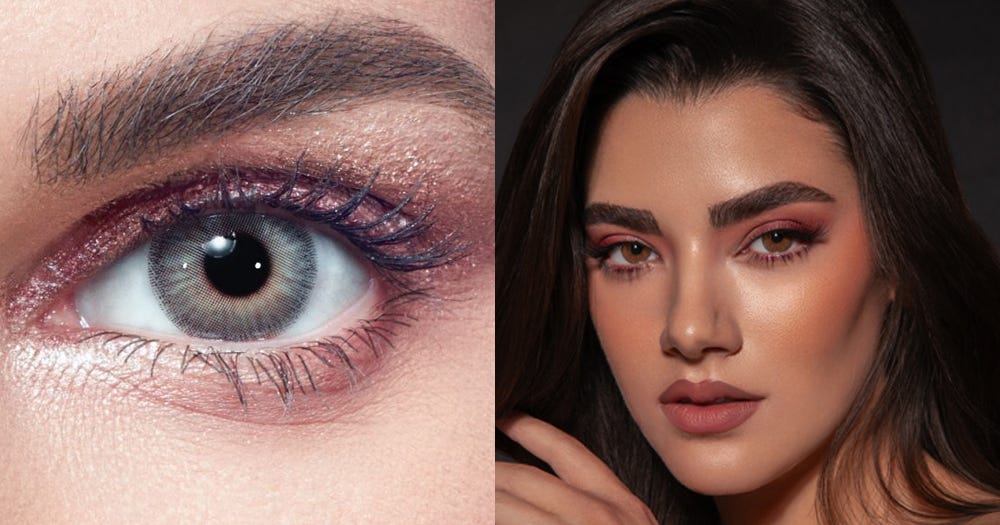 Whatever your style Athesthesia has something for you. If you don't believe us, just know that people across TikTok are testing these out and loving them!
View Anesthesia ONCE
3. Bella Color Contact Lenses
The infamous lenses have been worn by none other than Kim Kardashian herself, so if you weren't convinced, I bet you are now! Five wonderfully designed collections, these lenses provide ample options for all. The Bella Elite collection comes in 14 mesmerizing colors also made from comfortable Polymacon, which can be worn for up to 3 months. Make Dorothy jealous with the Emerald Green lenses as dazzling as the Emerald City itself.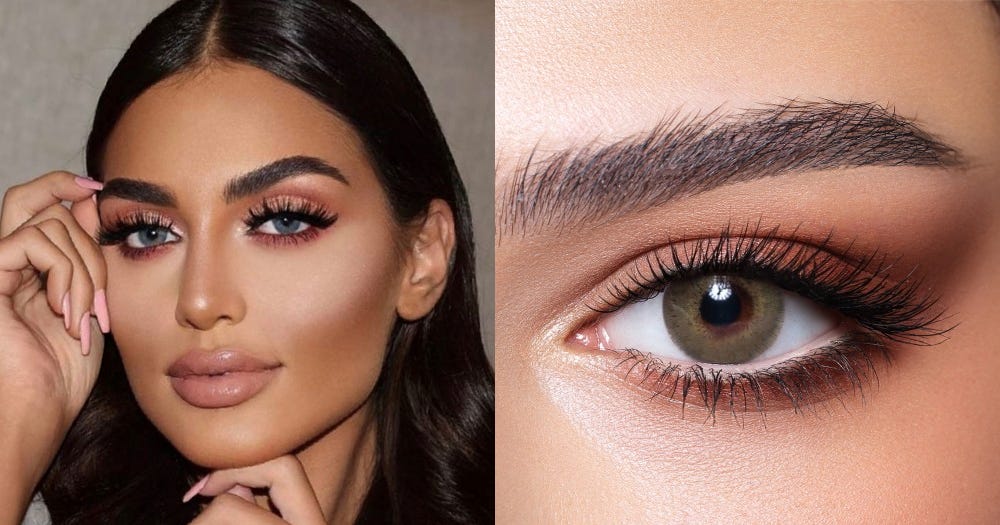 The Bella Diamond collection is designed to enlighten your eyes. From deep hazels to effervescent blues, you simply won't find colors more blinding. Perhaps you wish to match a brilliant blue dress with the Gray Shadow lenses? Or discover the depths of the Brown Shadow lenses.
View Bella
4. Air Optix Colors Contact Lenses
With a collection of 12 exceptional colors, the Air Optix collection is not for the faint hearted. This reputable brand makes some of the comfiest colored contacts out there. So, if you're looking for a drastic change, then look no further. The shade Green, a bestselling from this Air Optix Colors pluck inspiration from the most vibrant green forest colors. The Brilliant Blue lenses are as deep blue as the depths of the Atlantic Ocean.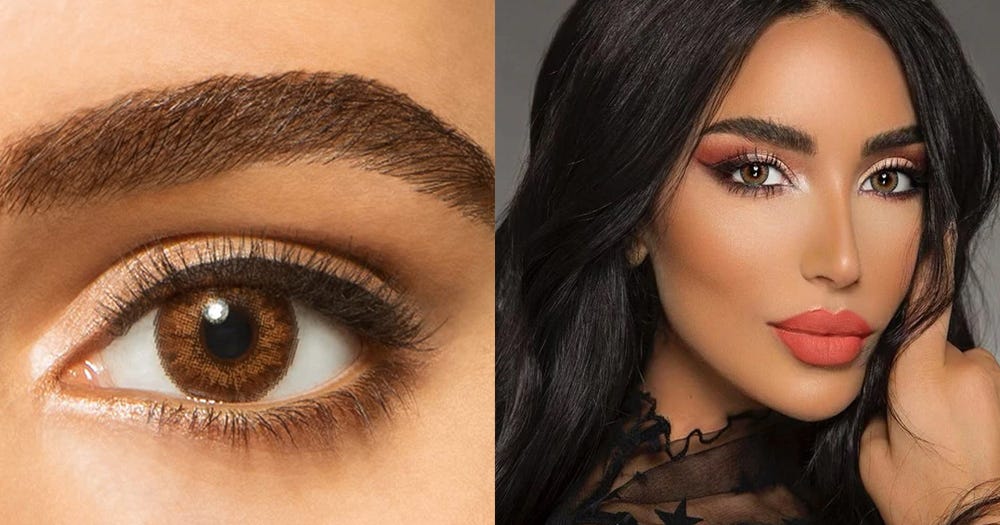 These lenses are perfect for that MUA who wants to really take on a stark transformation. The best makeup look with these lenses would be a siren or even a Forest Fairy. These lenses are made from Lotrafilcon B and last up to 2 months of daytime wear.
View Air Optix Colors
5. Solotica Aquarella One-Day Lenses
Daily lenses are much thinner than longer-lasting ones, making them much comfier for everyday use. They cut out the hassle of cleaning and ensure your eyes have the very best hygiene. You can use these lenses for anything from daily color changes to makeup looks and Halloween costumes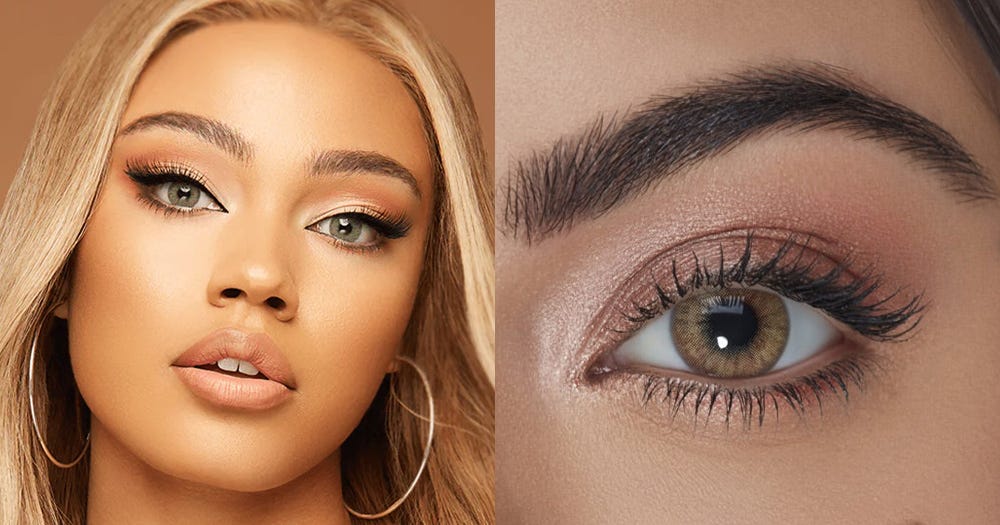 Coming in a pack of 10 you have plenty to keep you occupied. If you wish to try with a completely different color to the natural eye, their Aquarella Sepia Gray Lenses will give your eye a chilling color fit for the Snow Queen of Narnia. Or if you wish to try out the rarest eye color in the world, then the Aquarella Cyan Blue lenses can do just that for you! They are multidimensional and truly beautiful.
View Solotica Aquarella One-Day
6. Freshlook Colored Contact Lenses
Freshlook colored contacts come in 3 fantastic collections: the Colorblends, Colors and One-Days. The color blends collection brings together different shades to make some spellbinding multidimensional contacts. Take the Freshlook COLORBLENDS Gray lenses for example, a frosty grey color with flecks of bronze, totally dreamy!
If you wish to try something a bit brighter, the Freshlook ONE-DAY Pure Hazel lenses use the purest colours of brown and hazel to create a simple bewitching color. If you were creating a makeup look around this lens a golden goddess would take the lenses to the next level!
@beautybyroxc shows her TikTok followers her Freshlook Colorblends Honey colored lenses. Her eyes are a stunning deep brown, and these lenses create the perfect contrast to her natural colors!
View Freshlook
7. Solotica Yearly Color Contact Lenses
If you're looking for a more subtle change, Solotica yearly lenses may be just what you need. Whatever your prescription is, these seriously comfortable lenses cater for all. With toric lenses for astigmatism, no one is left out from trying these stunningly natural contacts.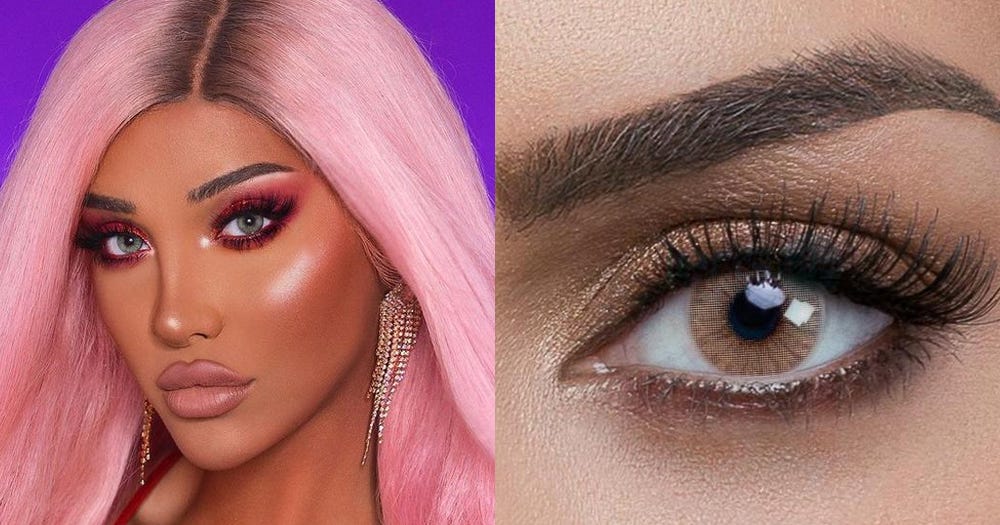 The Hidrocor collection comes in yearly lenses so if you fall in love with a color you can keep it forever ( well you must replace it after a year but that's long enough surely?) These lenses are loved by many, including the one and only Kylie Jenner. Fancy having boujee iris's like her? Then you must try the Hidrocor Topazio lens, which gives you the most extraordinary blue color. Made from Polymacon these lenses will give you the ultimate comfort! If you have naturally lighter eyes and wish to seek a deep dark shade, then you have to try out the Hidrocor Agata lens. A fantastic chocolate brown that will make you look like Kylie Jenner naturally!
View Solotica Yearlies
8. Acuvue Define Color Contact Lenses
Convenient and comfortable, these lenses are in our top 10 for this very reason! Using Lacreon technology that gives your eyes long-lasting moisture, by embedding a wetting agent for a protective moisture cushion. They come in several options of near and far-sighted prescriptions, and packs of 30.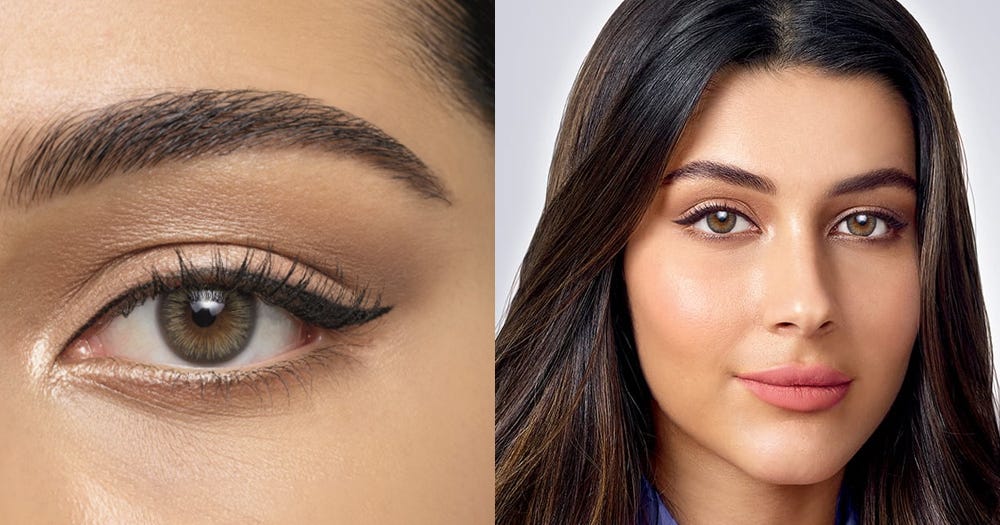 There are three styles for you to delve into, the Vivid Style lenses, a magnificent maroon limbal ring for depth and a warming chestnut brown pattern for that oh-so-vibrant look. The Natural Shine lenses have a darker grey limbal ring with a gold yellow shine for a chic sophisticated look. Finally, the Radiant Bright lenses have a dark brown limbal ring with a blend of natural colors to captivate you with a brighter look. These fantastically designed contacts contain some of the highest UV level protection offered on the market, so not only are they very comfy indeed, but exceptionally good for the protection of your eyes.
View Acuvue Define
9. FreshKon Color Contact Lenses
A fantastically affordable and FDA approved seller, FreshKon color lenses are manufactured and created in the heart of Singapore. They are not only comfy but insanely beautiful too! There are four collections from you to choose from; Colors Fusion lenses that create a marvellous combination of some of the brightest colors. Alluring eyes collection that provides you with a subtle larger iris with colors from dark browns, blacks, and greys. The Mosaic collection is available in striking four shades with defined limbal rings for an impressive pop of depth, possibly some of the most beautiful of FreshKon these color contact lenses will give your eyes the color of a mosaic masterpiece. Then finally we have the Moondust collection, the newest of the FreshKon color contacts, they will give your iris an enchanting uplift from your usual look.
These lenses can be worn for up to a month and you get 2 lenses per box, they have a high-water content for extra comfort. Try the Moondust Brown lenses for a majestic blend of browns, purples and ambers. Or if you want something more subtle, test our Mosaic Charming Brown lenses for the ultimate bronze brown combo.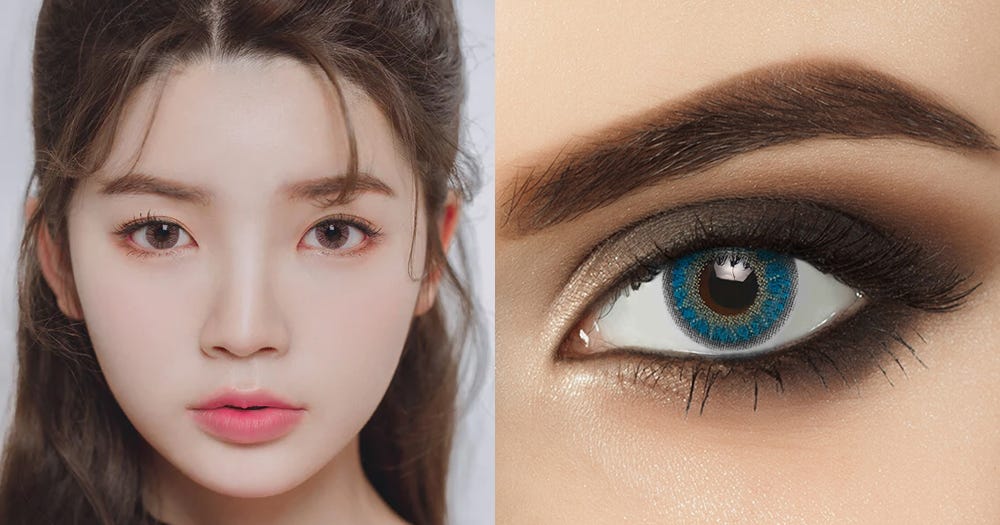 These lenses can be worn for up to a month and you get 2 lenses per box, they have a high-water content for extra comfort. Try the Moondust Brown lenses for a majestic blend of browns, purples and ambers. Or if you want something more subtle, test our their Mosaic Charming Brown lenses for the ultimate bronze brown combo.
View FreshKon
10. Solotica Aquarella Quarterly Color Contact Lenses
The newest range of Solotica colored contact lenses, the Aquarella Quarterly's are perfect for any occasion. With inspiration pulled from Brazil these colors bring wonderful earthy tones to your iris. They come in a pack of two, that can be worn for up to 3 months. They are made from Polymacon for utmost comfort and have a 38% water content.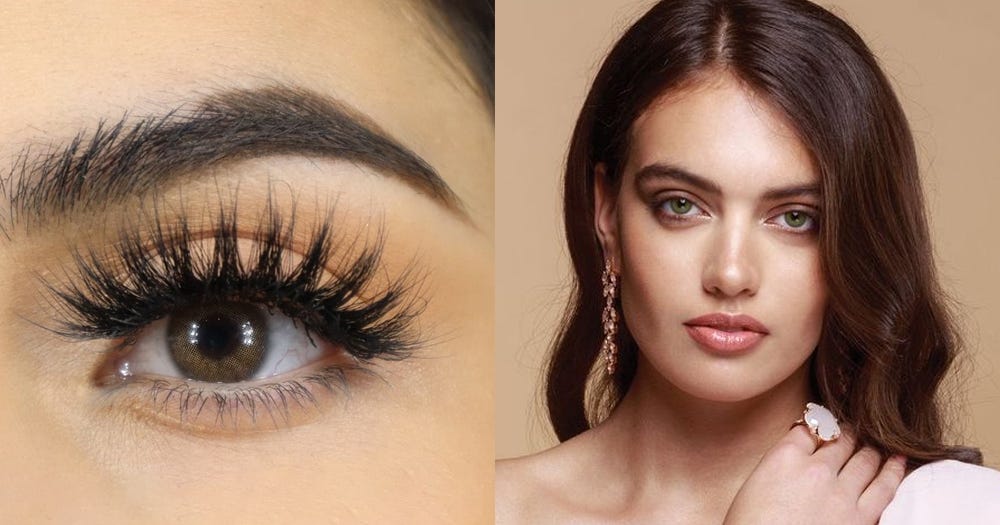 If you're looking for a natural light color, the Aquarella Samba Green lenses are the perfect combination of blue and green. They can transform even the darkest eye into a dreamy ocean color. Or perhaps you have naturally light eyes and wish to add some depth to them, then you simply must try the Aquarella Castanha Brown lenses. These are a glorious chestnut color that will add a stunning warm depth to your naturally bright eyes.
If you are a thriving make-up artist, or if you have an event where you need to dress up then you can test out the Aquarella Bossa Nova Gray lenses. They are a phenomenal gray color that would pair perfectly with a silver look or even a white makeup look. Thinking of transforming into a Snow Queen? Or perhaps a work Christmas party, these color contacts have you covered.
View Solotica Aquarella
So now you know some of the comfiest color contact lens brands that you can add to your 2023 new look. You can be best dressed at a New Years party, or completely transform into a new you. Whether that's matching your clothes with your eyes or taking on a permanent (ish) new eye color. Our color contact lenses are so comfy you wont even notice they are there! Don't forget to tag us in your new look- @lensdotme_official we can't wait to see your beautiful new colors!