As the witching hour draws ever closer, we lift the veil to reveal the most spine-chilling trends that have taken 2023 by storm. It's time to embrace the night and dive headfirst into the realm of bewitching aesthetics with the "2023 Halloween Trends: Scary Makeup Looks with Safe White Contact Lenses". This year, the parade of ghoulies and ghosties is about to take on an eerie glow, as a new dimension of otherworldly allure awaits.
Straight from the formidable Extreme Collection by Offensive Lenses, the hottest name in FDA-approved Halloween contact lenses, these safe white contacts are set to redefine and reignite the spirit of All Hallows' Eve. Designed for the fearless, the expressive, and the haunt-obsessed, they seamlessly blend safety, comfort, and stunning aesthetics into a transformative Halloween accessory. Now, the time has come for them to join forces with trending makeup looks that push the boundaries of traditional Halloween style.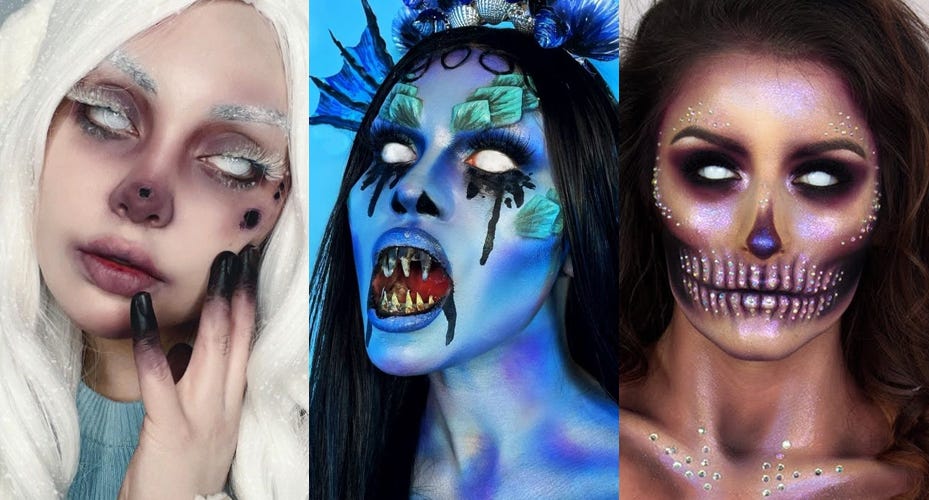 For all you Halloween enthusiasts, makeup mavens, and fans of the fantastical, get ready to take a walk on the spectral side. We're about to delve into a curated collection of the top 10 trending Halloween makeup looks for 2023, each paired perfectly with the eerie appeal of safe Halloween white contact lenses. From the hair-raisingly cool to the downright petrifying, these creative concoctions will steal the moonlight at any Halloween gathering. So prepare to conjure up some serious style as we step into the shadows of this year's most haunting Halloween trends.
2023 Halloween Trends: 10 Scary Makeup Looks with White Contact Lenses
1. White Witch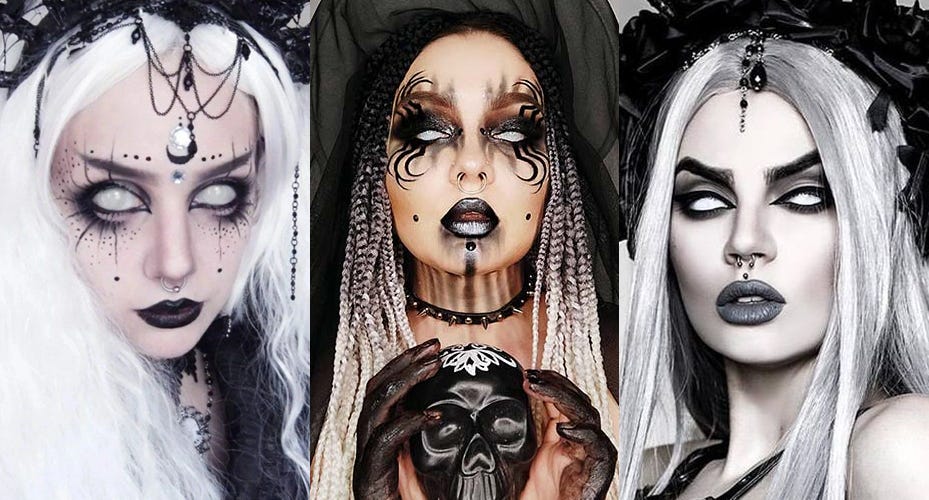 Embrace the mystic allure of a White Witch, capturing both ethereal beauty and spectral intensity. Start by applying a luminous, icy-toned base, highlighting your cheeks and the bridge of your nose for a supernatural glow. Smudge deep, shadowy hues on your lids, blending into a sharp, cat-eye effect. Pair this with the White Blind contact lenses from Offensive Lenses' Extreme Collection, their opaque color turning your eyes into mesmerizing orbs of pure white, completing this hauntingly elegant look.
2. Skull Makeup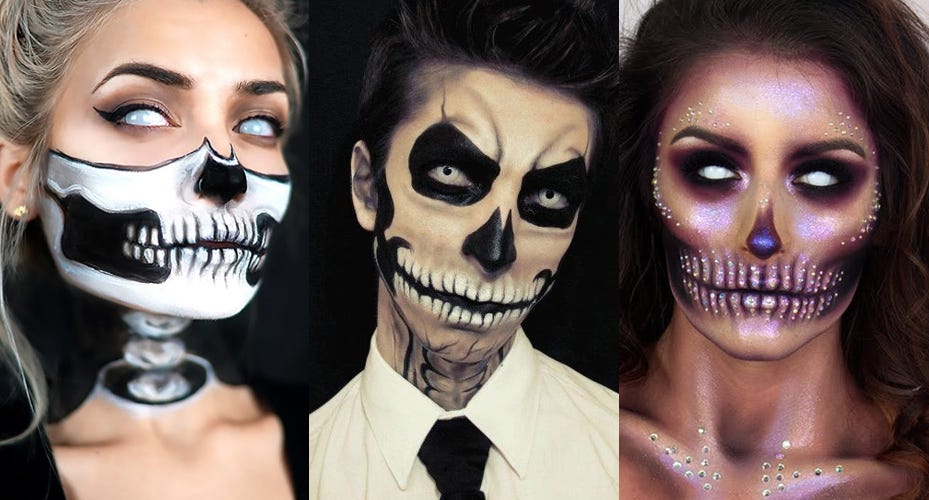 Raise the stakes this Halloween with the Skull Makeup look. Begin by painting your face white, then add black around the eyes, hollows of your cheeks, and nose to achieve a stark skeletal contrast. The most chilling part? The White Mesh contact lenses, turning your eyes into spectral spectacles while allowing you to see comfortably. The lenses' grid-like pattern brings a deathly realism to this classic skull look.
3. Fortune Teller
Peek into the future as a haunting Fortune Teller. Achieve this look by focusing on dark, mystifying eye makeup, a splash of vibrant color on the lips, and starry details scattered across your cheeks. The most captivating part of this costume is the eyes - specifically, the Whiteout contact lenses. These lenses will blur your irises into a solid white color, giving an unsettling, prophetic touch to your look.
4. Creepy Clown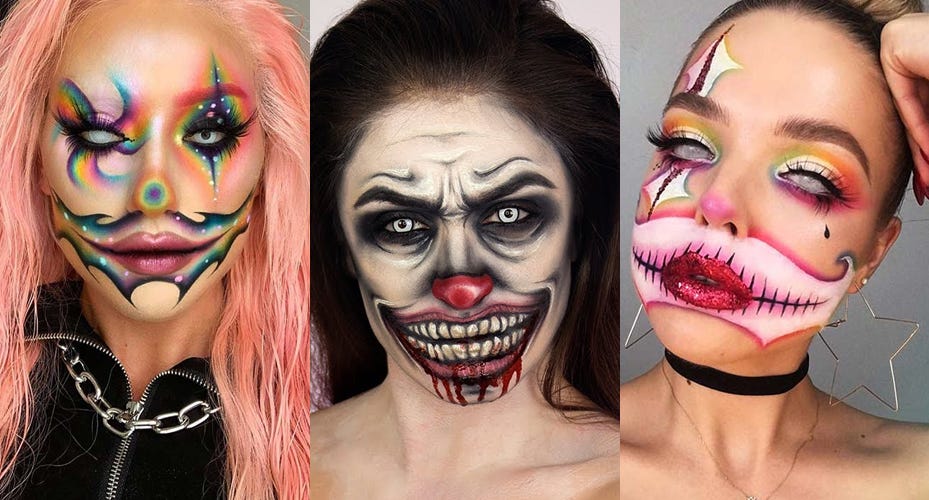 A Creepy Clown isn't complete without exaggerated facial features and vibrant colors. Use white makeup for your base, trace your mouth in an eerie extended grin, and add a colorful touch to your eyes. Amplify the terror with the White Hypnoticcontact lenses. These lenses feature a white spiral pattern that will twist your gaze into a hypnotizing sight, making this clown act one to remember.
5. Zombie from The Walking Dead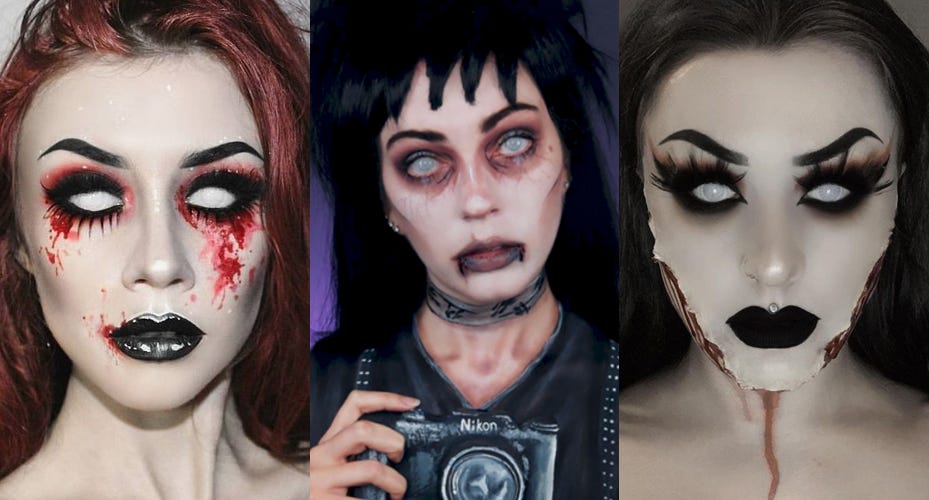 Unleash your inner undead with a Zombie look inspired by The Walking Dead. Achieve the undead aesthetic with a mix of grays and dark hues, creating depth and hollowness in your features. Complete your gruesome transformation with the Bloodshot Redcontact lenses. Their red and white pattern gives the illusion of bloodshot eyes, adding a horrifyingly realistic touch to your zombie guise.
6. Scary Spider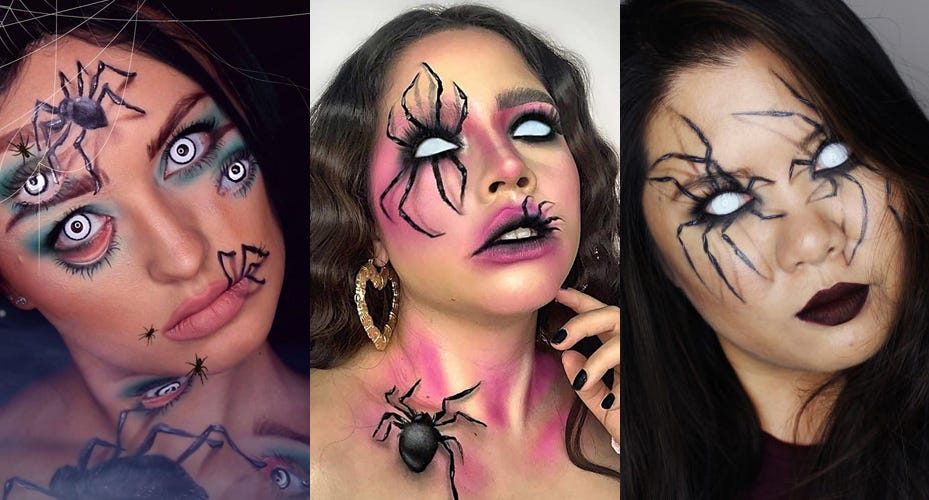 Creep out the crowd as a Scary Spider. With black liner, draw webs radiating from your eyes and extending down your cheeks. Complement this creepy-crawly look with the White Spider contact lenses. Their white base with black, spider-like lines will have everyone caught in your sight, making you the most haunting arachnid around.
7. Creepy Doll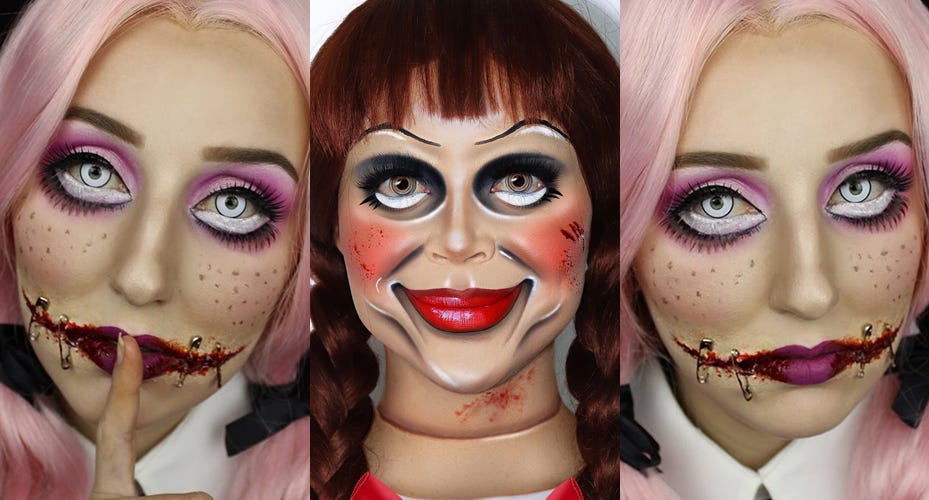 Channel your inner child with a chilling twist as a Creepy Doll. Apply porcelain-toned makeup, rosy cheeks, and oversized, false lashes. The White Psychocontact lenses will be the cherry on top, their cracked white pattern lending an unsettling, possessed doll-like appearance to your eyes, completing this eerie ensemble.
8. Frostbite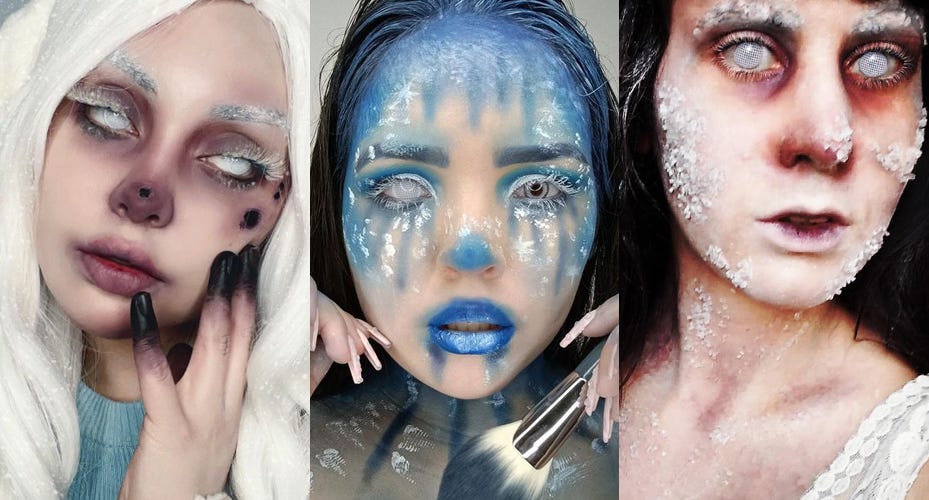 Shimmer in the moonlight as the queen of Frosty Glam. Adorn your face with icy highlights, silver glitter on your lids, and pair it with frosty lipstick. Enhance the frostbite effect with the White Blind contact lenses, their solid white color will give your eyes an icy stare, making this frosty beauty hard to forget.
9. Scary Mermaid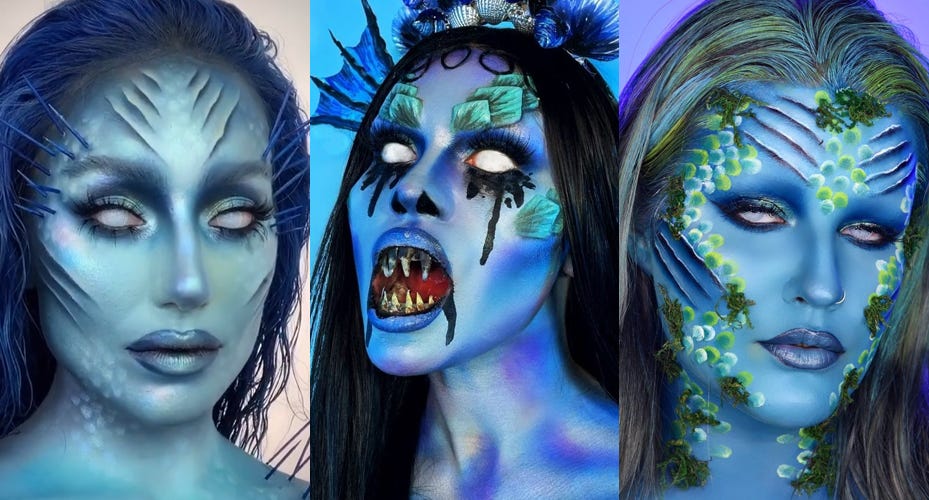 Sink into the dark depths with the Scary Mermaid look. Use aquatic shades for your eyes, holographic scales on your cheeks, and a dark, shiny lip color. Choose between White Cat Eye or White Manson contact lenses - either way, their white hue will contrast beautifully with your aquatic makeup, adding a touch of haunting allure to your deep-sea siren persona.
10. Scary Mermaid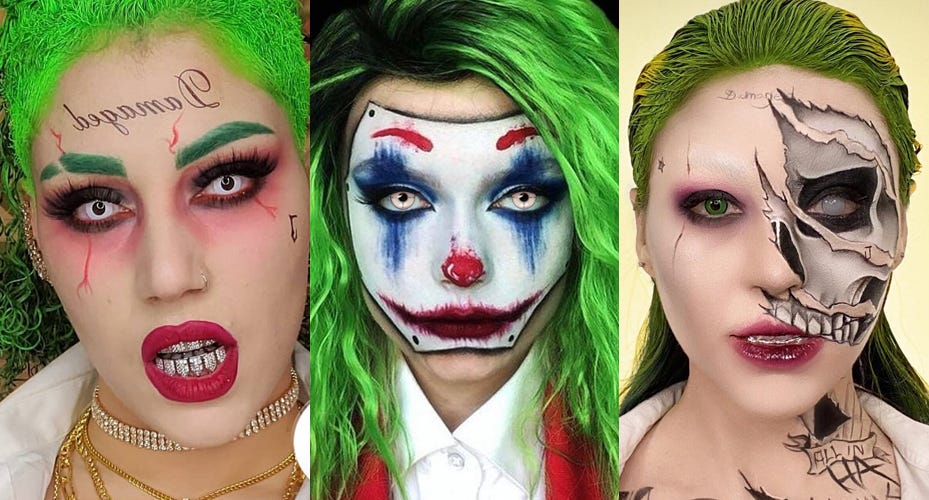 Take inspiration from Gotham's most iconic villain with The Joker look. Mimic his chaotic makeup with smudged kohl around your eyes, stark white face paint, and a devilishly wide grin. The madness truly comes alive with the White Cross contact lenses, their white base with a black cross pattern turns your gaze into a horrifying spectacle, proving that this Joker's wild card is his deadly stare.
Important Things To Keep In Mind When Using Halloween Lenses
As the final leaves fall and we embrace the witching hour, it's clear that white contact lenses have emerged as the must-have accessory for Halloween Makeup Looks this 2023. Their capacity to instantly transform your gaze into something haunting, eerie, and utterly captivating is a trend that is being embraced by everyone, from makeup mavens to Halloween enthusiasts. As the curtain falls on October, remember that these lenses are not only about creating spine-chillingly striking looks, they're also about embracing the fantastical safely.
In the frenzy of Halloween preparations, don't fall into the trap of purchasing cheap, low-quality contact lenses. The risks far outweigh the savings. It's crucial to choose FDA-approved Halloween lenses, like the Extreme Collection by Offensive Lenses. Not only do these lenses come in a variety of designs perfect for any character, but they also adhere to the highest safety standards. After all, your Halloween should be filled with fun and frights, not worrying about potential eye damage.
Finally, let's emphasize the importance of lens care. Following the replacement cycle, and learning how to insert and remove your Halloween lenses safely, is as essential as the costume you choose. The scariest part of Halloween should be the ghosts and goblins, not a trip to the emergency room. So, let's embrace the allure of these eye-transforming accessories while also prioritizing Halloween lenses safety. With the right care and attention, your Halloween lenses can bring a whole new dimension of otherworldly appeal to your look, and you can enjoy the chills and thrills of Halloween without any real fear. Happy haunting!