We love getting to know our customers on an individual level and it's one of the many ways we pride ourselves on the service we provide. We spent some time talking with Reena, a YouTube vlogger who goes by the name Kallay Beauty to get an idea of how she decided to make the jump into using colored contact lenses.
A resident of the United Kingdom, Reena loves creating videos around makeup tutorials and product reviews. She is also a big fan of shopping. Recently, she started wearing colored contact lenses a few months ago. Let's find out more from this beauty expert:
lens.me offers well known colored contacts like Solotica, Anesthesia, Bella and more.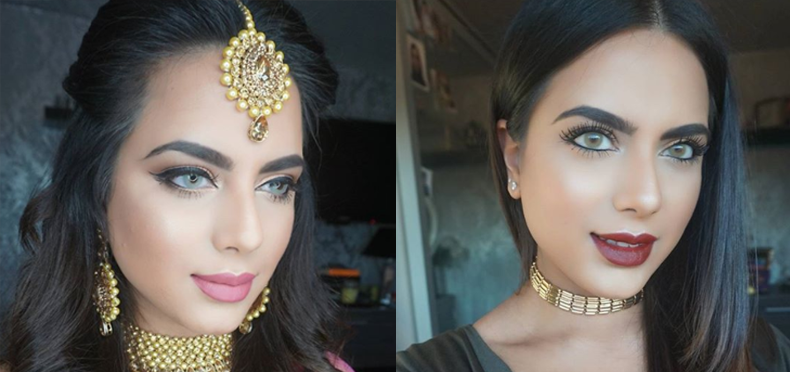 Why did you decide to make the switch to colored contacts and how did you figure out what colors to order?
I was always apprehensive about them because I thought they looked fake! However, I was looking at the lens.me range for a while and finally decided to take the plunge and invest!
For me, it is very important that my colored contact lenses don't look obvious, and as I have never previously worn lenses before, I wasn't sure which style would suit me best. However, I was reassured by the reviews published on their website and social media sites which made me feel more at ease.
When do you wear your lenses and how do they work with your makeup routine?
I feel the lenses are so comfortable and they complement my skin tones so well, it makes it easy to apply makeup of my choice! I personally wear my colored contact lenses to occasions such as parties, weddings, and sometimes just on the weekends for fun
Is it important to take care of your lenses?
Before handling the contact lenses I wash my hands with soap and water, then rinse and dry them with a lint-free towel. I also minimize contact with water, including removing my lenses before going swimming or in a hot tub.
Describe your experience with lens.me on a scale from 1 to 10.
Definitely 10 out of 10 for me! The service from the very beginning was personable but still professional at the same time. I love that there is always a personal note with the package, along with some chocolate which I am a very big fan of. Considering it is internationally shipped it's amazing that the products are received within 2-3 days!
We love hearing success stories like Reena's - having only worn contact lenses for a few months, it sounds like she loves the lens.me product lineup. To see our beautiful lenses, make sure to browse different brands for colored contact lenses we have.