Everyone's raving about the latest show from Tim Burton on Netflix – Wednesday. Now if you haven't watched it, it's highly likely you've been living under a rock.
This spooktacular season starred Jenna Ortega who plays Wednesday, the return of some familiar characters like the very popular "Thing" and an introduction to some new characters, like Enid Sinclair and Bianca Barclay. You may have noticed that the seductive siren played by Joy Sunday, has eyes that quite literally pierce through your soul, even through a tv screen. If you fancy having a bit of that sparkle in your own iris, then you've come to the right place, because you totally can!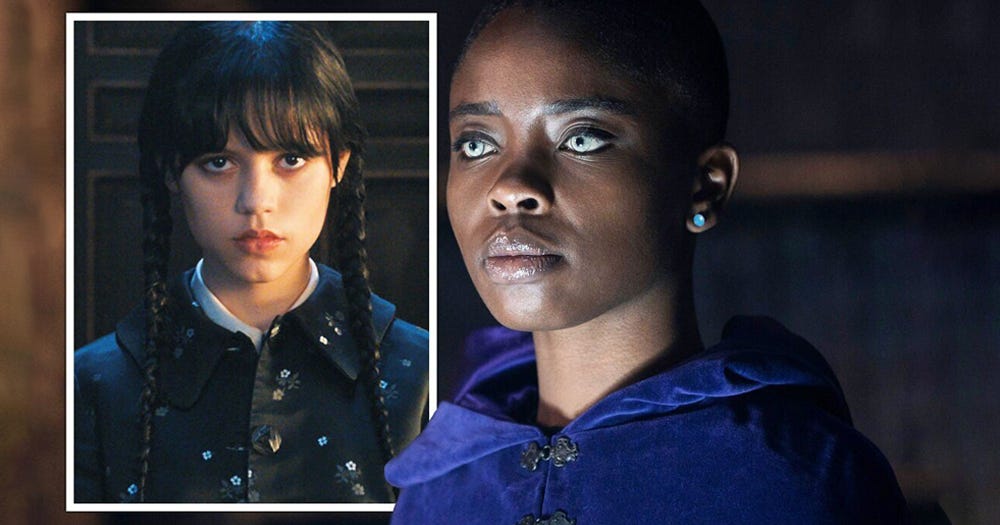 We have put together a list of our best startlingly beautiful light gray color contact lenses so you can release your inner siren and really feel a part of the new show!
NETFLIX "Wednesday": Joy Barclay's Color Contact Lenses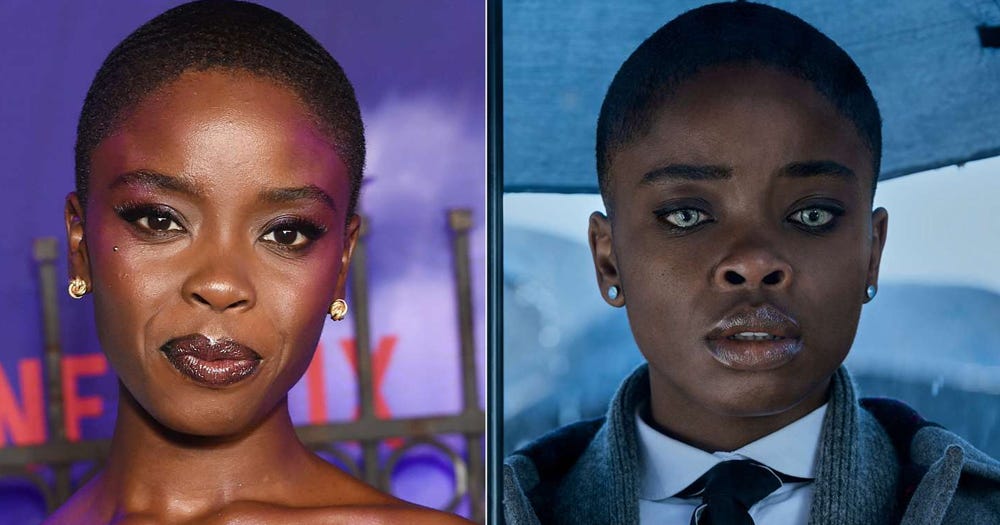 Solotica Hidrocor Ice
Wednesday Addams may come across as cold as ice, but that's nothing compared to Bianca Barclay's intense stare. Solotica Hidrocor Ice colored lenses will bring the chill to any party. Made without a limbal ring, they bring your iris a naturally cold look giving the siren a real run for her money. Being the most popular student at Nevermore, there's no wonder people look up to her with her incredibly bright eyes, so why not give them a go for yourself?
Anesthesia USA Vegas Pearl
We know that Bianca and Wednesday didn't quite see eye to eye, perhaps Wednesday was jealous of Bianca's enchanting iris? With Anesthesia USA Vegas Pearl color contact lenses, you can have a go at taking on that enchanting look yourself. A darker shade of Gray gives a slightly subtler look, but still gorgeous, nonetheless. If you really want to capture the Nevermore Academy's look, you can pair these lenses with a dash of purple, to match their quirky purple and black blazer uniform. Try a purple jumper, or even a fantastically blended eyeshadow looks with deep purples and blacks to mimic the school colors.
Solotica Aquarella Beleza Gray
These next lenses really bring the sparkling look Bianca pulls off when she's fencing against Wednesday, and if you want the look of a pure champion then you must try Solotica Aquarella Beleza Gray contact lenses. No shade to Wednesday as it was close, and we really thought she could have been victorious, but coming out on top, Bianca Barclay absolutely slayed her performance with a sparkle in her eye! If you want to match the winner's look, all you need to do is match your beautifully bright lenses with something white, taking inspiration from their classic fencing attire.
Bella Glow Husky Gray Green
Heading to a dinner party soon? Boogy to "Goo Goo Muck" in Bianca's iconic prom look with Bella Glow Husky Gray Green colored contacts. They have an incredible dark limbal ring fading into a fresh light gray shade to create the perfect combination. To recreate Bianca's look, you will need a silver sequin dress and some turquoise liquid eyeshadow. If you don't have any liquid eyeshadow, a shimmer shade will still work well! Match this look with your gray lenses then you will have the going-out-out look of dreams! (or Wednesday's nightmares).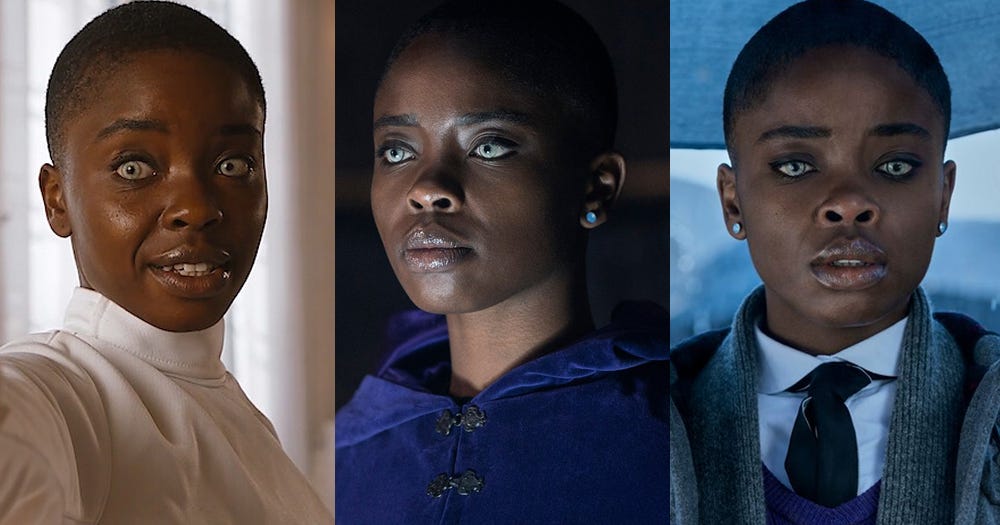 Solotica Hidrocor Cristal
Although the Poe-Cup didn't quite go to plan for Bianca, her outfit was very clearly well-planned. She looks insane with her golden eye look paired with her gold and black racing outfit. Not to mention the spectacular contrast of the gray eyes. You can recreate this look by pairing Solotica Hidrocor Cristal lenses with a gold liquid eyeliner or liquid shadow. Add either a gold or yellow item of clothing and you have the final fit. You will truly feel like a siren goddess with this look!
Solotica Aquarella Alegria Gray
If you want a ticket into the Nightshade Society, then you will want to get these next lenses. Solotica Aquarella Alegria Gray lenses are mysteriously stunning. Again, you could pair these with a deep purple to match the society's wonderous dark cloaks. Pair this look with simple makeup to keep the full focus on your majestic iris. There won't be a need to sneak yourself into society when you look this incredible, they will be begging you to join.
Solotica Natural Colors Cielo
Solotica Natural Colors Cielo colored contact lenses create a spooky mix between a deep dark gray and a lighter green, gray. Don't be confused with the spookily gray of Goody Addams the ghost of Wednesday's visions though, as these fit with Bianca's look perfectly. Fit in with the outcasts by adding these lenses to a siren-approved look, try a mermaid-colored highlighter to create a water-like shimmer that will bring your siren look to life. If you really want to push the boat out, why not test the viral "siren skin"? If you have a scale stencil you can brush your shimmering highlight over your neck and cheeks to get the subtle siren skin Tim Burton has wonderfully incorporated in the show.
Anesthesia Anesthetic Claro
Lastly, our Anesthesia Anesthetic Claro lenses will help you decide whether you're going to sink or swim in the world of sirens. They are a cloudy gray that works brilliantly with a more casual look. Bianca pairs a lighter purple jumper with a silvery cropped jacket. Making sure she's on theme with the school and her siren pod. Add some comfy black joggers or even jeans and you have complete siren comfort.
Being in the Top 10 on Netflix and going viral on TikTok, it's safe to say Wednesday Addams has our hearts in the palm of her hand, or well, Thing's hand! So which look are you going to try out? When you're dance, dance, dancing with your hands or putting on your best pilgrim suit you will do so in style with your new color contact lenses. Whether you want to stand out from the crowd, or truly fit in with the outcasts each look has something for everyone to try. We love to see your recreations with our lenses so don't forget to tag us in your looks! - @lensdotme_official.