With spring and summer fast approaching, you will be planning your outfits for upcoming events and dates in your social calendar. The sun brings out the beautiful colours and features of our eyes, and so many choose to highlight these with beautifully coloured, subtle-toned contact lenses to bring a new element to your appearance.
Our collection of colored contact lenses continues to grow, with the exciting introduction of the new Diva Lenses. Bringing a wide range of earth-toned lenses in warm browns, azure blues and gorgeous greens to our collection, the Diva Lenses have been created to bring an understated, natural enhancement or change to your everyday look that can be easily transformed for the evening, for the ultimate one-stop lens.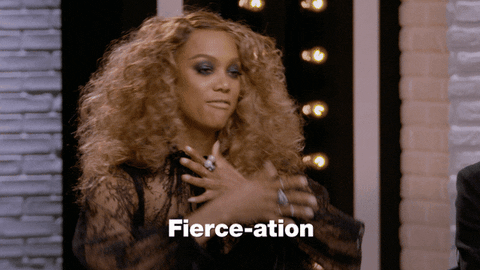 Created with high-quality and comfort in mind, the Diva Collection are prescription-level lenses and with correct care and maintenance, can be worn for up to thirty days. As with all prescription and coloured lenses, wear past this date may cause irritation – so it is important to maintain proper care practices with the Diva lenses as with all our contact lens collections.
Here at lens.me we are excited to bring this Diva collection to our extensive range of premium and prescription-colored lenses. You will absolutely love this natural enhancement to your eyes, with expert creation to give you peace of mind that the health of your eyes is in great hands.
Each pack of Diva lenses comes with two lenses of the same prescription power. Diva lenses are with 14.5mm in diameter with material consist of polymacon and 48% water content level.
My eyes are two separate prescriptions – can I still purchase the Diva collection?
Ultimately it is your decision which color eyeliner you opt for – with many sticking to the classic black. To start, it's worth considering your eye color and taking a look at the color wheel. The contrasting color for your eye color is a great place to start!
Absolutely! If you need two different powered lenses, this can be noted upon purchase to make this collection as versatile as possible. Just tick the box at purchase and the option to select your prescription will appear.
What colors from Diva lenses are available?
Our Diva collection comes in twelve stunning colours to fit all preferences, eye and skin colors.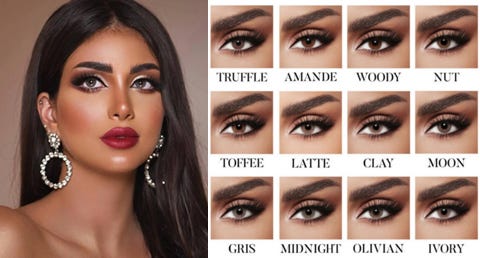 What colors are amongst the popular from Diva lenses?
Our most popular lenses are the Amande, Gris, Clay, Olivian and Moon, showing a distinct trend towards cool and grey-toned lenses for the upcoming summer season. Natural tones bring an elegant and understated new enhancement to your look, providing you with the ability to change your day-to-day appearance easily and safely.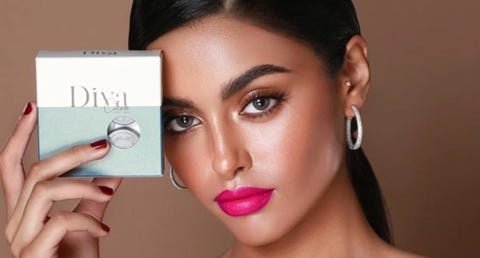 Our warmer and darker lenses are great to add definition to an evening look, spiced up with a dark smokey eye for extra impact. Alternatively, try a metallic eyelook with our light, blue and grey shades to create a striking look with light golds and eye-catching features. Many of the Diva lenses come with a subtle limbal ring for a striking element which makes these lenses great not just for daily use, but to add a beautiful element to an evening look – meaning that the Diva collection is perfect to take you from day to night with ease.
Place your order today at lens.me to try out our Diva collection ready for summer and get fast delivery.