You're looking for the perfect brown colored contact lens, and you already know that Solotica Hidrocor lenses are the most natural-looking lenses in the world, but now to pick the shade. Hidrocor Ocre and Hidrocor Avela are both beautifully natural brown colors, but trying to decide between the two can be tricky.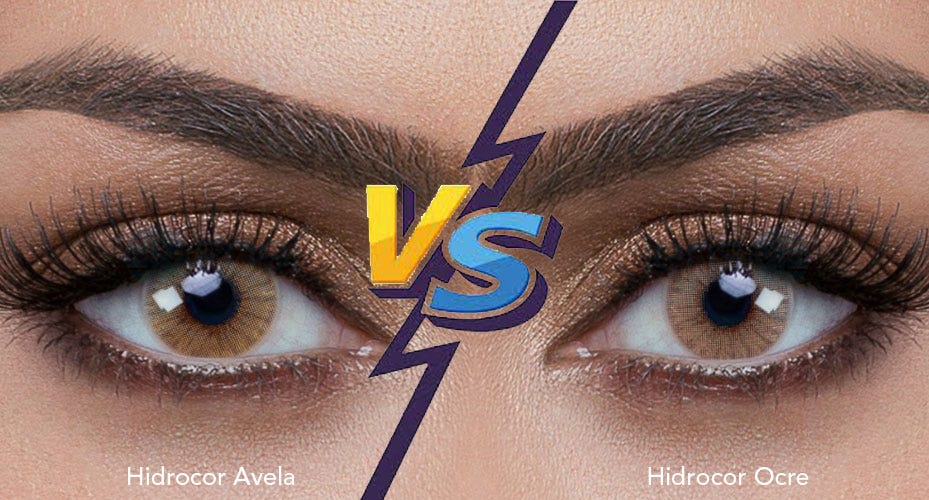 The end color result of these lenses will always depend on your natural eye color, but we have put together a few pointers on choosing between the two based on our customer's feedback.
The Difference Between Solotica Hidrocor Avela and Solotica Hidrocor Ocre
If you have light eyes
If you have light eyes and want to achieve a warmer brown color, then Hidrocor Ocre will be the right choice for you.
If you are after more of a hazelnut brown tone, then Avela is a perfect choice.
If you have dark eyes
On very dark eyes, Hidrocor Ocre can sometimes appear a slight bit grayer than Avela as it is a lighter color. If you're after a slightly bolder look, then Ocre is the color for you.
If you have dark eyes and want to enhance them naturally, we recommend Hidrocor Avela. The beautiful orangey, hazelnut color will blend beautifully with your natural eye color.
Both colors in the Hidrocor collection doesn't feature a limbal ring and therefore offer an extremely natural finish. In general, Ocre is lighter than Avela, and Avela offers more of a Hazlenut color. If you're still unsure, you can reach out to our customer care team or look at the other brown colored lenses we have on our website.
Check out this video made by our Fonzevil to see the difference of Hidrocor Avela and Hidrocor Ocre.